Iced In by Chris Turney
Author:Chris Turney [Turney, Chris] , Date: December 3, 2017 ,Views: 1442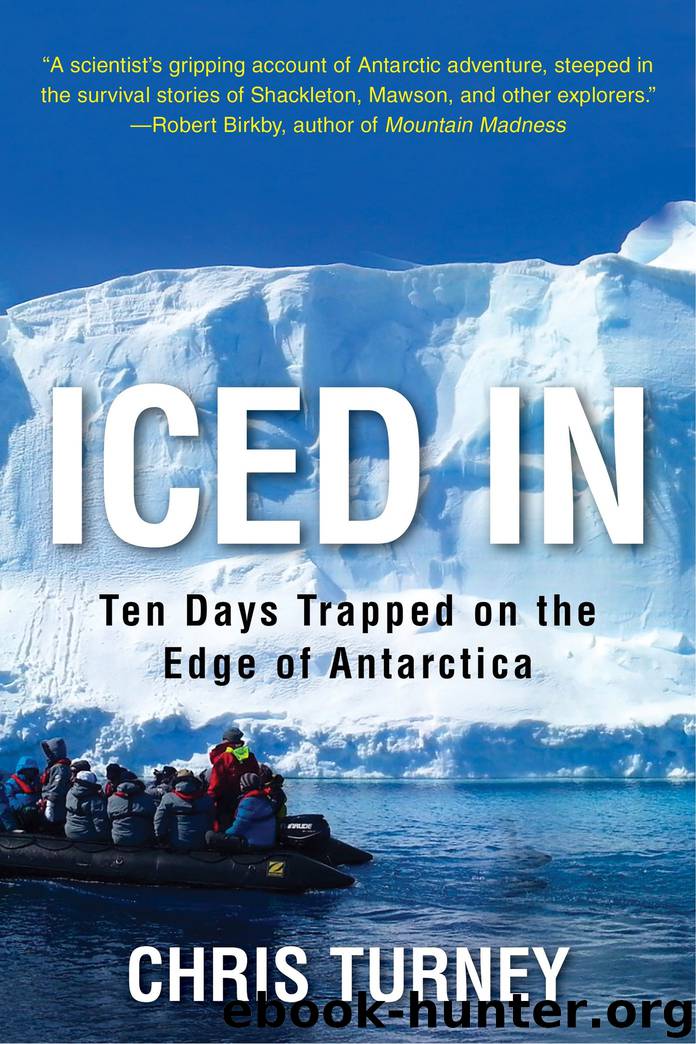 Author:Chris Turney [Turney, Chris]
Language: eng
Format: epub
Publisher: Kensington
Published: 2017-08-03T04:00:00+00:00



The Endurance headed east out from South Georgia to try to bypass the worst of the ice before plunging south into the Weddell Sea. It didn't work. Three days after leaving Grytviken they met sea ice, far farther north than usual. The Norwegian whalers had been right: the summer of 1914–1915 was terrible. To the south, they faced a brilliant white "ice-blink" sky that warned of closely knit pack ice stretching seventy miles or so to the horizon; behind them lay the inky dark "water-sky" from where they had come. Shackleton chose the ice-blink. For some 1,800 miles, the Endurance was directed toward any patches of darkness in the sky that indicated lanes of open water reflecting off the underside of the clouds. It was a remarkably effective way of navigating through the ice-choked Weddell Sea. Hurley was optimistic, writing in his diary: "The ship cut her way through in noble style, leaving a long wake which could be traced, and remaining open, for a mile or so."
Buoyed with optimism, the expedition discovered new land on 12 January and named it the Caird Coast in honor of their major benefactor. Things looked hopeful. Large patches of open water allowed the Endurance to reach speeds of several knots. In spite of all the warnings, maybe they could set down Shackleton and his men after all. But as the latitude increased, so did the thickness of sea ice. At times it appeared impassable, and the ship would grind to a halt, apparently trapped. A few hours later, the winds would change, and they'd manage to break free, resuming their journey.
On 17 January, the wind swung round to the northeast and, gusting up to 46 miles per hour, Worsley noted it "drove all the ice in that part of the Weddell Sea down to us, and packed it solidly around the ship." Two days later, the Endurance was stuck, frozen "like an almond in toffee" as one diary entry remarked. At first the men thought it was just another temporary stop. After all, leads of open water still lay ahead. Shackleton organized attempts to reach them. The men threw themselves into the work with gusto. Long saws and crowbars were used to try to clear the way. Hurley filmed their efforts. It was no good. New sea ice formed almost as quickly as they cut it out. With hindsight, it all seems rather futile, but at the time it gave the men purpose, something to do instead of sitting around dwelling on the situation. Eventually they were forced to concede defeat.
As the days turned to weeks, the reality of their situation started to sink in: they could be trapped for the winter. They had been so close to reaching their goal. Wild wrote with frustration: "We could see the land we were making for about forty miles away, but so far as effecting landing was concerned it might as well have been four thousand." Orde-Lees had even sorted out the stores and labeled up those for the "ship" and "shore.
Download


Copyright Disclaimer:
This site does not store any files on its server. We only index and link to content provided by other sites. Please contact the content providers to delete copyright contents if any and email us, we'll remove relevant links or contents immediately.