Hashimoto's Protocol by Izabella Wentz PharmD
Author:Izabella Wentz, PharmD. , Date: April 6, 2017 ,Views: 1725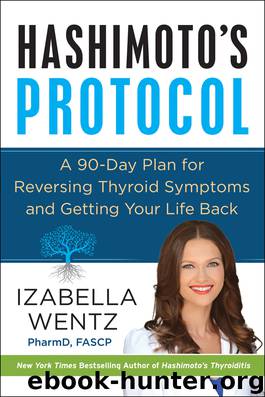 Author:Izabella Wentz, PharmD.
Language: eng
Format: epub
Publisher: HarperCollins
Published: 2017-02-17T16:00:00+00:00



Selenium
Selenium deficiency has widely been recognized as an environmental trigger for Hashimoto's. Selenium plays a very important role in thyroid function, acting as catalyst to convert the inactive T4 to the biologically active T3, and protecting thyroid cells from oxidative damage that occurs during the production of thyroid hormones.
Root Cause Reflection: Hashimoto's Anxiety
We know that stress, anxiety, and being high-strung can contribute to adrenal issues, but it's a two-way street. Many of my readers and clients report that the onset of Hashimoto's changed their previously calm and laid-back demeanor. One reader wrote: "After my Hashimoto's diagnosis, all of a sudden I found myself with panic attacks and anxiety. This was not me. I went from a comfortable social butterfly to a constantly anxious person who could barely speak up in work meetings. It's like all of a sudden I couldn't cope with anything!"
In stage 2 and beyond in Hashimoto's, the thyroid is under attack by the immune system. As thyroid cells are broken down, they release thyroid hormones into the bloodstream. This causes thyroid hormone surges, or a transient hyperthyroidism. This excess amount of thyroid hormone can make us extremely anxious, irritable, and on edge. This is one symptom that is commonly attributed to Graves' disease but can also happen in Hashimoto's.
I know how awful anxiety can feel, and so I'm really excited to share that there is a way out. You don't have to feel this way forever. Everyone is different, but two of the things that have worked wonders for my clients and me are the following: supplementing with selenium in the morning and magnesium citrate at bedtime, and balancing the blood sugar with nutrition.
Do you struggle with anxiety?
Did you realize this symptom could be due to Hashimoto's?
If you were less anxious, how would that improve your life?
Download


Copyright Disclaimer:
This site does not store any files on its server. We only index and link to content provided by other sites. Please contact the content providers to delete copyright contents if any and email us, we'll remove relevant links or contents immediately.