Day by Elie Wiesel
Author:Elie Wiesel [Wiesel, Elie] , Date: February 26, 2017 ,Views: 2033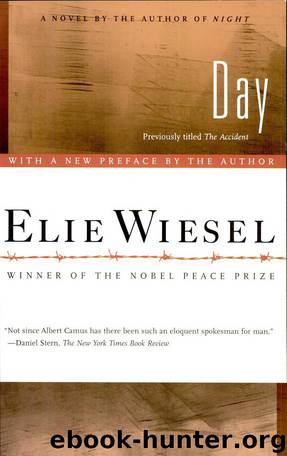 Author:Elie Wiesel [Wiesel, Elie]
Language: eng
Format: epub, mobi
ISBN: 9781466821170
Publisher: Macmillan
Published: 2006-03-21T07:00:00+00:00



EVERY MORNING Dr. Russel came to chat. He had made it a habit to end his daily rounds with me. Often he would remain an hour or more. He would walk in without knocking, sit on the windowsill, his hands in the pockets of his white coat, his legs crossed, his eyes reflecting the changing colors of the river.
He spoke a lot about himself, his life in the army—he had been in the Korean War—his work, the pleasures and disappointments that came with it. Each prey torn away from death made him as happy as if he had won a universal victory. A defeat left dark rings under his eyes. I only had to look at him carefully to know whether the night before he had won or lost the battle. He considered death his personal enemy.
"What makes me despair," he often told me bitterly, "is that our weapons aren't equal. My victories can only be temporary. My defeats are final. Always."
One morning he seemed happier than usual. He gave up his favorite spot near the window and started walking up and down the room like a drunkard, talking to himself.
"You have been drinking, Doctor!" I teased him.
"Drinking!" he exclaimed. "Of course I haven't been drinking. I don't drink. Today I'm simply happy. Awfully happy. I won! Yes, this time I won…"
His victory tasted like wine. He couldn't stand still. To split up his happiness he would have liked to be simultaneously himself and someone else: witness and hero. He wanted to sing and to hear himself singing, to dance and to see himself dancing, to climb to the top of the highest mountain and to shout, to scream with all his strength, "I won! I conquered Death!"
The operation had been difficult, dangerous: a little twelve-year-old boy who had a very slim chance of surviving. Three doctors had given up hope. But he, Paul Russel, had decided to try the impossible.
"The kid will make it!" he thundered, his face glowing as if lit up by a sun inside him. "Do you understand? He's going to live! And yet all seemed lost! The infection had reached his leg and was poisoning his blood. I amputated the leg. The others were saying that it wouldn't do any good. That it was too late. That the game was lost. But I didn't hesitate. I started to act. For each breath, I had to fight with every weapon I had. But you see: I won! This time I really won!"
The joy of saving a human life, I thought. I have never experienced it. I didn't even know that it existed. To hold in your hands a boy's life is to take God's place. I had never dreamt of rising above the level of man. Man is not defined by what denies him, but by that which affirms him. This is found within, not across from him or next to him.
"You see," Paul Russel said in a different tone of voice, "the difference between you and me is this.
Download


Copyright Disclaimer:
This site does not store any files on its server. We only index and link to content provided by other sites. Please contact the content providers to delete copyright contents if any and email us, we'll remove relevant links or contents immediately.