The Sports Rules Book by Human Kinetics
Author:Human Kinetics , Date: January 8, 2020 ,Views: 3293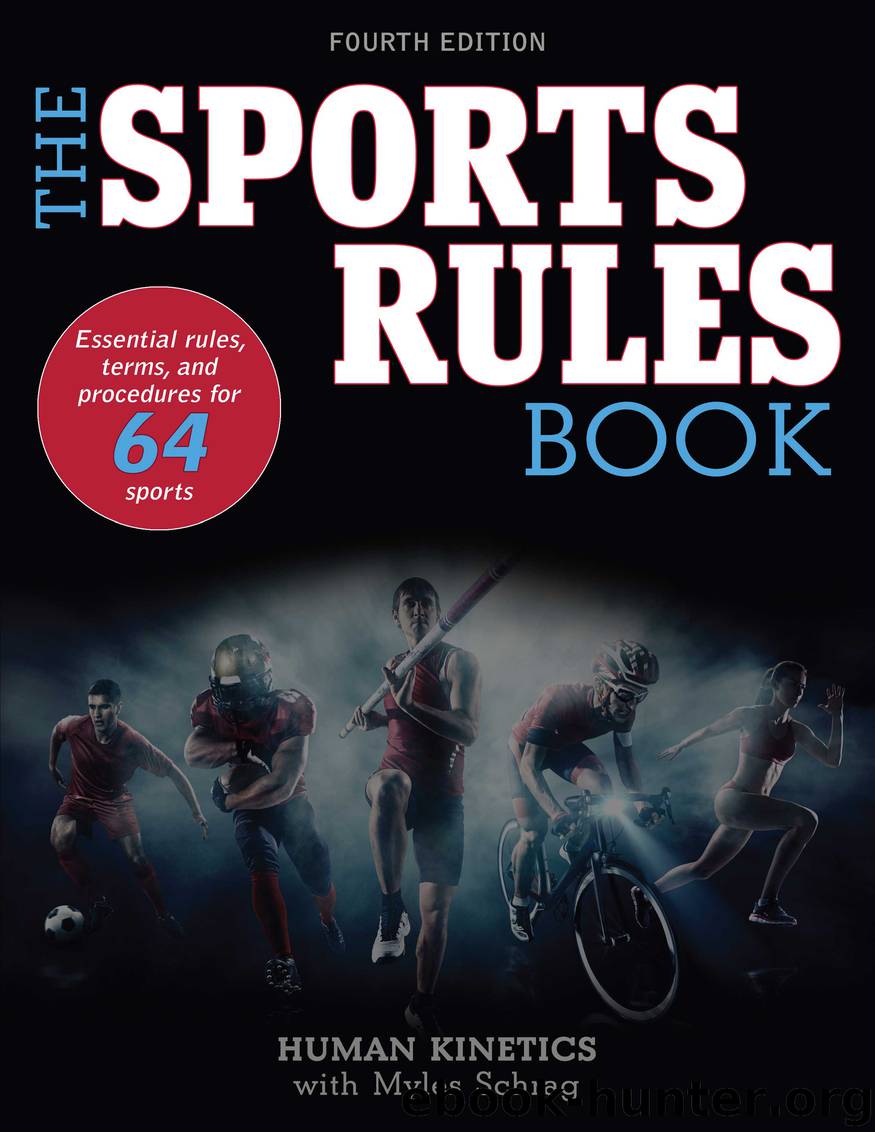 Author:Human Kinetics
Language: eng
Format: epub
Publisher: Human Kinetics, Inc.



A sonomama occurs when a passivity warning or another technical penalty is warranted. When the MR calls a sonomama, the competitors freeze their positions; when the match is restarted, they begin in those same positions.
If a competitor inadvertently loses contact with her opponent in part two and is about to fight as in part one of the match, the MR will call, "Matte." If the competitor has intentionally lost contact in either part two or part three, he can be assessed a passivity penalty.
Two side referees (SRs) move along two opposing sides of the tatami, observing the competitors as the match goes on. A table referee (TR) also observes from a table located beyond the safety area.
During the match, the MR and SRs signal when points have been scored. At the end of the match, the MR announces the winner and signals for a standing bow.
Winner
The competitor with the most points wins. If a contestant has scored 2- or 3-point techniques in all three parts of the match in the same round, she wins by a full ippon. If a contestant earns 14 points more than his opponent at the end of the first round, he is declared the winner.
If competitors are tied, the competitor with more 2- or 3-point techniques wins. If the competitors are still tied after this, a hikiwake (draw, or tie) is called. In this case, the competitors fight an additional 2-minute rounds until a winner can be determined.
A contestant can also win by fusen-gachi (walkover) if her opponent does not appear for the match and by kiken-gachi (withdrawal) if her opponent withdraws from the contest during the match. Such wins earn 14 points.
Scoring
Points are awarded in this way when a competitor shows good balance and control:
Part One
Unblocked blow, strike, or kick—2 points
Partly blocked blow, strike, or kick—1 point
Download


Copyright Disclaimer:
This site does not store any files on its server. We only index and link to content provided by other sites. Please contact the content providers to delete copyright contents if any and email us, we'll remove relevant links or contents immediately.