Good Omens by Pratchett Terry
Author:Pratchett, Terry [Pratchett, Terry] , Date: March 25, 2014 ,Views: 2528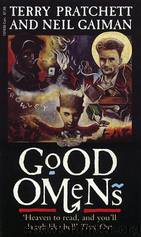 Author:Pratchett, Terry [Pratchett, Terry]
Language: eng
Format: epub
Publisher: HarperTorch
Published: 1990-08-15T06:00:00+00:00



Jesus won't cut you off before you're through
With him you won't never get a crossed line,
And when your bill comes it'll all be properly itemized
He's the telephone repairman on the switchboard of my life
the choir sang. Marvin was fond of that song. He had written it himself. Other songs he had written included: "Happy Mister Jesus," "Jesus, Can I Come and Stay at Your Place?" "That OI' Fiery Cross," "Jesus Is the Sticker on the Bumper of My Soul," and "When I'm Swept Up by the Rapture Grab the Wheel of My Pick-Up." They were available on Jesus Is My Buddy (LP, cassette, and CD), and were advertised every four minutes on Bagman's evangelical network. [$12.95 per LP or cassette, $24.95 per CD, although you got a free copy of the LP with every $500 you donated to Marvin Bagman's mission.]
Despite the fact that the lyrics didn't rhyme, or, as a rule, make any sense, and that Marvin, who was not particularly musical, had stolen all the tunes from old country songs, Jesus Is My Buddy had sold over four million copies.
Marvin had started off as a country singer, singing old Conway Twitty and Johnny Cash songs.
He had done regular live concerts from San Quentin jail until the civil rights people got him under the Cruel and Unusual Punishment clause.
It was then that Marvin got religion. Not the quiet, personal kind, that involves doing good deeds and living a better life; not even the kind that involves putting on a suit and ringing people's doorbells; but the kind that involves having your own TV network and getting people to send you money.
He had found the perfect TV mix, on Marvin's Hour of Power ("The show that put the FUN back into Fundamentalist!"). Four threeminute songs from the LP, twenty minutes of Hellfire, and five minutes of healing people. (The remaining twenty-three minutes were spent alternately cajoling, pleading, threatening, begging, and occasionally simply asking for money.) In the early days he had actually brought people into the studio to heal, but had found that too complicated, so these days he simply proclaimed visions vouchsafed to him of viewers all across America getting magically cured as they watched. This was much simpler—he no longer needed to hire actors, and there was no way anyone could check on his success rate. [It might have surprised Marvin to know there actually was a success rate. Some people would get better from anything.]
The world is a lot more complicated than most people believe. Many people believed, for example, that Marvin was not a true Believer because he made so much money out of it. They were wrong. He believed with all his heart. He believed utterly, and spent a lot of the money that flooded in on what he really thought was the Lord's work.
The phone line to the saviour's always free of interference
He's in at any hour, day or night
And when you call J-E-S-U-S you always call toll free
He's the telephone repairman on the switchboard of my life.
Download


Copyright Disclaimer:
This site does not store any files on its server. We only index and link to content provided by other sites. Please contact the content providers to delete copyright contents if any and email us, we'll remove relevant links or contents immediately.