German, Jew, Muslim, Gay by Marc David Baer
Author:Marc David Baer , Date: August 6, 2020 ,Views: 299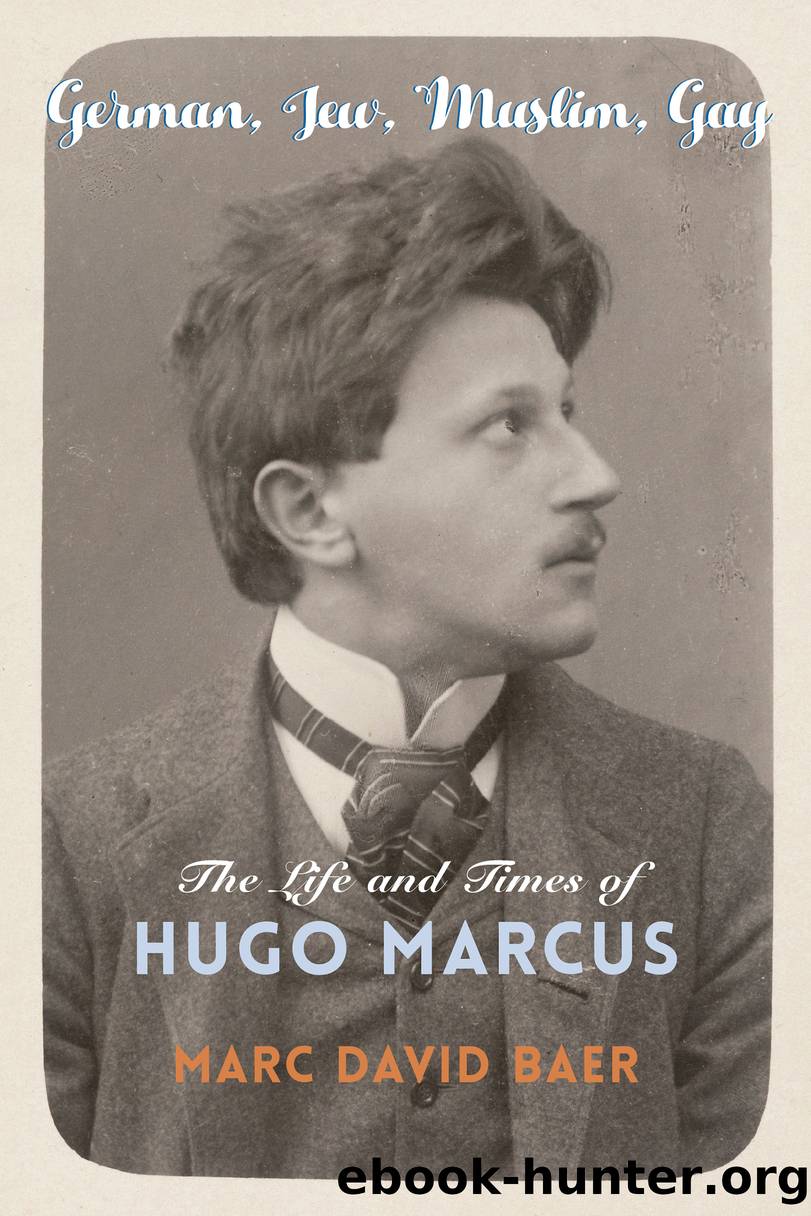 Author:Marc David Baer
Language: eng
Format: epub
Publisher: Columbia University Press



For Wilhelm, "it was easy for him to lure me down. He did not have to repeat his invitation often, for I found it irresistible and felt, despite some fear of my parents, as well as wariness toward the unknown element, extraordinary excitement."45 Wilhelm undressed and cautiously went into the water. The other boy "let me linger there, moved away in the buoyant element, then swam back, and as he climbed out and stood up to dry off in the light of the sun, I thought my eyes were dazzled by a triple sun: so beautiful was the human form, of which I had never had any notion." The boy looked at him "with the same attention. Quickly dressed, we still faced each other without veils. Our hearts were drawn to one another, and with fiery kisses we swore eternal friendship."46 Wilhelm encounters the boy in his nude splendor again, after he had drowned. He engages in necrophiliac pleasure with the nude body: "The unfortunates lay stretched out on straw, naked, gleaming white bodies, brilliant even in the dim lamp light. I threw myself upon … my friend. I would not be able to describe my state. I wept bitterly and flooded his broad chest with countless tears. I had heard something about rubbing being helpful in such a case, so I rubbed my tears in, and deceived myself with the warmth I generated."47 In his confusion, he "thought of blowing breath into him, but the rows of pearly teeth were firmly clamped shut, and the lips, on which our parting kiss still seemed to linger, refused the slightest sign of response." They had to tear him away, "weeping, sobbing."48
Marcus's interest remains with the nonexplicit aspects of the boys' love and with the object of a man's affection. From the tale he concludes, "what some sow, others reap. With Goethe, the friend sows what the girls may later reap." He turns to explore the view that the male body is more beautiful than the female nude, explaining that an aging Goethe made a remark (in 1830): " 'In actual fact, Greek pederasty is based on the fact that, measured purely aesthetically, the man is after all far more beautiful, more excellent, more perfect than the woman.… Pederasty is as old as humanity, and therefore it may be said that it is rooted in nature, although at the same time it is against nature.' " Marcus finds this to be remarkable, a "free, original, unprejudiced point of view in opposition to the entire world; after all, as long as humankind exists, it was always the female sex that has been called the more beautiful one." But to Marcus "it is also evident that these words reveal the existence of a deeper ambivalence between his aesthetic and emotional way of apprehending.… And since the aesthetic usually marks the beginning [and] the erotic develops out of this beginning, to the introspective Goethe, the erotic may have appeared nothing less than the fall of the aesthetic.
Download


Copyright Disclaimer:
This site does not store any files on its server. We only index and link to content provided by other sites. Please contact the content providers to delete copyright contents if any and email us, we'll remove relevant links or contents immediately.