Five Ways to Fall by K.A. Tucker
Author:K.A. Tucker [Tucker, K.A.] , Date: March 25, 2014 ,Views: 1226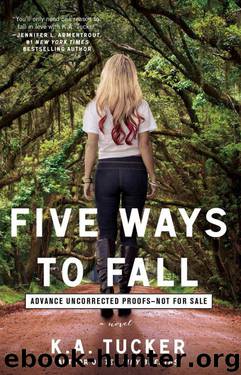 Author:K.A. Tucker [Tucker, K.A.]
Language: eng
Format: epub, mobi
Published: 0101-01-01T00:00:00+00:00



Chapter 19
REESE
"I like your friends!" I holler, my shoes dangling from my fingertips as my naked toes relish the cool, wet sand along the beach.
"More than you like me?"
"Yeah, but that's not hard." I turn and begin walking backwards as I absorb Ben's responding grin, perfectly visible in the light of the full moon. Maybe it's the Jim Beam, but I'm finding it even more charming than usual tonight. In fact, the entire package—whore and all—has had me checking my hair in the mirror and sending little shocks of electricity through me the entire evening. Even with his shirt hanging out of his pants and his tie long since removed, the big jock looks sharp in a suit. I'm kind of glad he doesn't wear one around the office all the time. It would be distracting.
"Is that so? Is that why you've been all over me tonight?" he asks, his brow raised as if he knows some little secret.
I can't contain the bark of laughter. "What? You gave me a task and I like to overachieve." It's funny, when we first stepped around the corner and into a wedding scene, the only thing that stopped me from wrapping my hands around his neck and choking him was knowing my hands wouldn't cover even half the span needed to succeed. But I quickly adapted to the situation and met a few of his friends—who I can tell I'd actually like.
Especially that redhead, Kacey, the maid of honor. She's got a wicked sense of humor. She kept her promise, spending a good fifteen minutes scrolling through her phone to show me "the best of the best" from Ben's farewell party. Which turned out to be the "worst of the worst." There were a few she wouldn't show me, though, and I'm thinking they involved the strippers. I guess she assumes that, as Ben's date, seeing pictures of Ben getting molested by other women would bother me. When I accidently caught the one of the Twinkie straddling his lap and my stomach twisted uncomfortably, I thought I might agree with her.
When Ben leaned down and laid that first kiss on me right before the ceremony, I could have refused. I could have pushed him back and said no. But I didn't. I went along. It was an unpredictably easy decision to make, especially after catching Mercy's furtive and frequent glances over at him. I knew that if I strayed more than a foot away, I'd turn around to find her hanging off of him, trying to entice him with her bedazzled vagina or whatever it is the stripper has that lures in a guy like Ben.
So I hung off him instead.
And let him steal kisses.
They felt more like borderline inappropriate tests than anything, partly because he knew he could get under my skin with them but also because he knows that, though I'll never admit it, I'm secretly enjoying them as much as he is.
"Do you think it worked?"
"My pants are still on, so hell yeah.
Download


Copyright Disclaimer:
This site does not store any files on its server. We only index and link to content provided by other sites. Please contact the content providers to delete copyright contents if any and email us, we'll remove relevant links or contents immediately.