Far and Near by Neil Peart
Author:Neil Peart [Peart, Neil] , Date: February 2, 2018 ,Views: 1224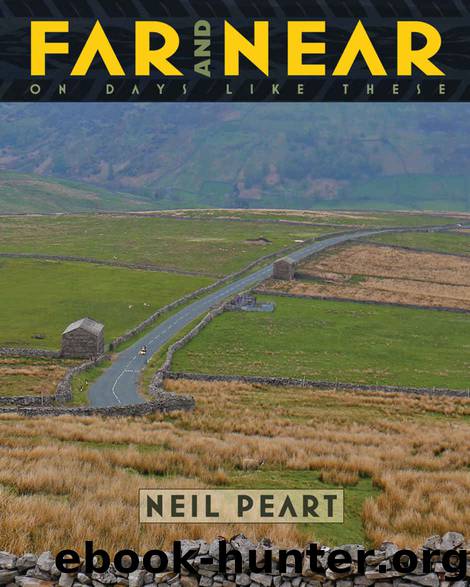 Author:Neil Peart [Peart, Neil]
Language: eng
Format: epub, mobi, azw3, azw
Publisher: ECW Press
Published: 2014-09-30T23:00:00+00:00



With all those books to think about, I had no lack of raw material. And even better, none of that was pressing—yet it was rich with possible insights, connections, and revelations. Another quality I observed in that story: "On the ski trails, while I'm kicking and gliding across the snowy landscape, thoughts parade through my mind in a somehow stately fashion, without urgency."
So it remains for me, and my thoughts ranged from postmodernism to what I might eat for dinner (simple comfort-food basics in my solitary retreat—pasta with shrimp sauce, ribeye steak fried in butter and garlic with boiled potatoes and broccoli, pork chops with apple sauce and jasmine rice). As always, my mind gathered what I saw and felt and played the game of trying to put it into words, into sentences, that might be shared with others.
Home by late afternoon for a hot shower and maybe a nap, I would stoke up the fire again and pour myself a large Macallan on ice. That was one of the day's rewards—but only one of a series of prizes, on a day like that had been. The day itself was an unforgettable treasure. My body felt heavy as I sank into the armchair, feet up on the ottoman, and relaxed into the satisfying bone-weariness and the mental emptiness from having exercised my brain, too. Now I would soothe my body with ease and whisky, and reading over the morning's work, red pen in hand, was a reward for the mind. (As was the whisky.)
I was careful to glance over at the windows regularly, not wanting to miss any of the phases of changing light as evening came on. Sometimes I would stand up and walk around from one view to another, maybe catching a brief, evanescent light effect that lasted less than a minute. The line of treetops far across the white lake turned pinky gold in the last rays of the lowering sun. Before the snowy ground faded into blue shadows, it seemed to pause and radiate its whiteness even stronger than in sunshine—briefly holding onto the light, like, say, the walls of Grand Canyon. But this radiance was soft and gently rounded, like cake frosting, while the trees were dusted with light snow. Through the hemlocks to the west, an orange spark glinted and faded, and above, the sky turned white, then pale blue, fading to pink around the rim.
Download


Copyright Disclaimer:
This site does not store any files on its server. We only index and link to content provided by other sites. Please contact the content providers to delete copyright contents if any and email us, we'll remove relevant links or contents immediately.