Familiar Strangers by Jackie Walsh & Jackie Walsh
Author:Jackie Walsh & Jackie Walsh , Date: November 20, 2019 ,Views: 131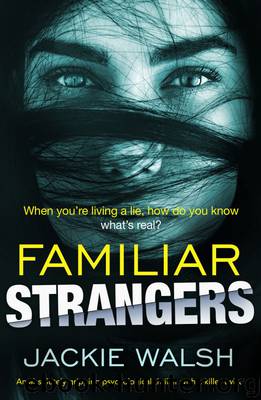 Author:Jackie Walsh & Jackie Walsh
Language: eng
Format: epub
ISBN: 9781912973095
Publisher: Hera
Published: 2019-05-14T00:00:00+00:00



Chapter Thirty-Three
Naturally there were no oohs and aahs for my gift, just a load of gasps and stares.
I can't stay, fearing they might surround me, tie me to a tree and burn me. This is really bad. Joanna thinks I gave her a dirty old knitted baby coat. Oh God… Danny.
I'll have to get to Joanna before she tells him, explain to her that the present was from the old man across the road, probably some family heirloom. But I'm not attempting to fight my way through this angry mob. I'll ring her later. Right now I need to get out of here.
Without saying anything to Joanna I slip out the patio door. What the hell was Bert thinking in giving them that gift? Is it some old heirloom he's resurrected and wants to pass on now that everyone is dying? He better have some frigging excuse when I ask him because I've never been so embarrassed in my life. Poor Joanna, I feel so bad for her. Her only sister-in-law, letting her down in front of all her flawless friends. Will she ever forgive me?
Driving away, I decide to call in to Bert and ask about the coat. I will make out there were more questions of interest than disgusted faces. Regardless of its history, Bert should at least have washed the coat before he passed it on. But I won't say that, not to an old man who has just buried his wife.
There's no answer at Bert's house. I hope he's okay. Walking back to the car I resolve to invent some heirloom story on his behalf. It's not like they're going to check.
Download


Copyright Disclaimer:
This site does not store any files on its server. We only index and link to content provided by other sites. Please contact the content providers to delete copyright contents if any and email us, we'll remove relevant links or contents immediately.