Echoes In The Mist by Rifi Strawn
Author:Rifi Strawn [Strawn, Rifi] , Date: August 6, 2020 ,Views: 204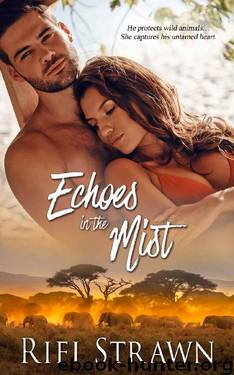 Author:Rifi Strawn [Strawn, Rifi]
Language: eng
Format: epub
Tags: romance
Publisher: Rifi Strawn
Published: 2020-05-17T18:30:00+00:00



Chapter Fifteen
The night of the fundraiser, Stanley walked out of her room in a short, black cocktail dress. The sleeveless elegance showed off her toned arms, slim waist, and long, shapely legs in heels. Her cleavage shimmered from the gold powder she'd sprinkled on last minute.
The chiffon dress moved with her swaying hips to the backyard. She stopped to admire the festive atmosphere. The trees glistened with party lights. The swimming pool was filled with floating elephant-shaped candles. She was proud of her attempt to recreate the river scene to show Makeda and her herd having a good time at the party.
She had butterflies from the sight of Jeremy mingling with the guests in his dark blue tux. He was so dashing with his hair slicked back on his tanned, handsome face tonight. She held his gaze from afar until Torrey gave her a chore.
His mother looked her up and down. "That's some dress."
"Jeremy picked it out for me."
"Of course, he did." Torrey gave her a box full of pamphlets. "Make sure everyone gets one." She hesitated before leaving. "If you get cold or something, check out the scarfs in my closet."
"Thanks."
With a smirk, Stanley watched Torrey walk away in her long black skirt and white silk blouse. Compared to his mother's conservative outfit, Stanley's short, figure-hugging dress was sexy. But if it weren't for the dainty ruffles around Torrey's high neckline and the ends of her sleeves, the guests would've mistaken her for the wait staff.
Stanley used her dress like a secret weapon to loosen the donors' wallets. They seemed to enjoy a peek at her cleavage and legs in high heels as they turned in their pledges. But no one appreciated her curves more than Jeremy. All night long, his gaze followed her everywhere.
The guests' fascination with the life-sized wooden statues of elephants, giraffes, and zebras paid off. It was worth dragging the giant sculptures from Torrey's storage room and strategically placing them to complete the savannah theme. Jeremy had been so helpful in carrying heavy things for her.
She walked over to Torrey at the silent auction table and looked over the bid sheets. "Hey, everything on our list sold."
Torrey beamed. "Some of those animal statues brought in four times the amount I had expected."
"I'm so thrilled. Jeremy's dream of buying more land for the elephants is slowly becoming a reality."
"I guess so," Torrey said. "My late husband received the animal statues from the village chief during his service at the rehab center in Zambia. I'm glad they were useful tonight. Thank you for the suggestions."
"You're welcome. Your backyard offers a natural aura for this special party that no grand ballroom could touch."
"I agree." Torrey checked the time. "We better go. Jeremy's presentation is starting soon."
Stanley sat in one of the chairs as Jeremy took the stage. It would be interesting to see if he'd used her suggestions for the slide show. She smiled at Makeda's face dominating the silver screen. Now that was the impact she'd wanted to make on the guests.
Download


Copyright Disclaimer:
This site does not store any files on its server. We only index and link to content provided by other sites. Please contact the content providers to delete copyright contents if any and email us, we'll remove relevant links or contents immediately.