Draw Your Day by Samantha Dion Baker
Author:Samantha Dion Baker , Date: September 1, 2018 ,Views: 2433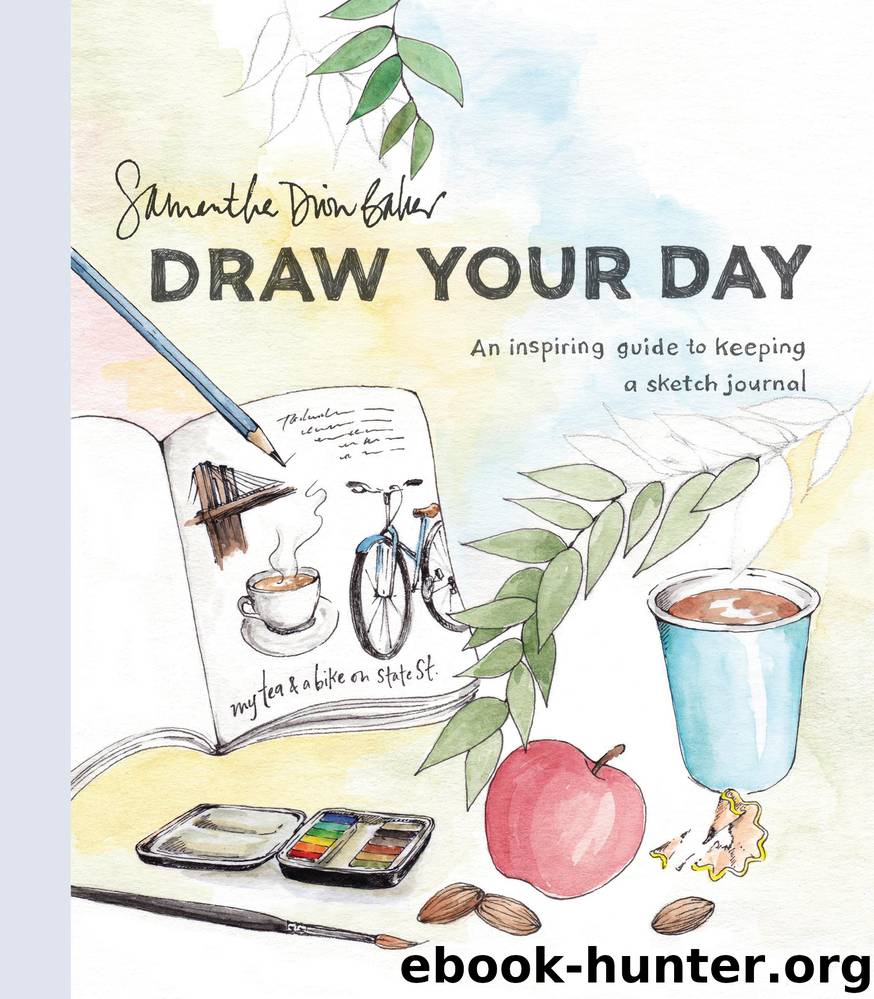 Author:Samantha Dion Baker
Language: eng
Format: epub, azw3
Publisher: Potter/Ten Speed/Harmony/Rodale
Published: 2018-08-27T16:00:00+00:00



For me, the daily drawing practice is a time to reflect and home in on particular moments—like enjoying a handful of almonds on a subway ride, or the look on my child's face when he tried a new food. Time is so fleeting, and each day passes quickly. Often a week will pass, and I am left thinking, "Wow, what even happened this week? What did I accomplish?" But my sketch journal helps me keep a hold on where my time has gone; it keeps me off of my phone and computer; it reminds me to observe the world around me; and it enables me to look back on it all.
There are two ways I go about answering a popular question, "How do you think of things to draw each day?" One, I live in a big city and I have two kids, and there is always something going on! The days tend to be repetitious, so it's not so much what to draw, but how to focus on a different item or moment than I did the last time. Which leads me to the second way to answer the question, and that's simply to open my eyes to new ways of seeing things. You get past the moments of sameness by challenging yourself to see them differently. Rather than drawing the same tuna sandwich you bought twice last week from the shop down the road, find one thing on the walk to get the sandwich that might be worth remembering. Was it the laundry you saw hanging in someone's backyard, the sandwich shop itself, the flowers outside the shop, the bag they put the sandwich in? Maybe there is a cookie or a muffin on the counter that piques your interest, and you draw that instead, even if it's not what you ordered. Or you simply say, okay, enough with the tuna sandwich, time to draw (and eat) something else.
A day doing laundry, cleaning the house, only getting outside to go to the grocery store, or having so much work that I don't leave my desk—these are the days that I especially want to breathe life into on a journal page, because these are the days that are typically forgotten, that blend into the week, the month, the year. What if I draw the cobblestones on the street by the market or the lid to the laundry detergent bottle? What if I draw the garbage cans behind our building, which I pass several times a day? What if I draw the food items I bought for tonight's dinner? Pages with everyday subjects like these are the most popular of the pages I share on social media, because we like to find ways to relate to each other through the ordinary. Our morning routines, breakfast, a doorknob never before noticed, or a coveted pair of shoes. There is great comfort in focusing on these familiar items and recording them on the page.
Download


Copyright Disclaimer:
This site does not store any files on its server. We only index and link to content provided by other sites. Please contact the content providers to delete copyright contents if any and email us, we'll remove relevant links or contents immediately.