How Proust Can Change Your Life by Alain De Botton
Author:Alain De Botton [Botton, Alain de] , Date: September 22, 2015 ,Views: 2066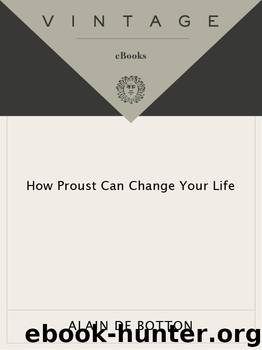 Author:Alain De Botton [Botton, Alain de]
Language: eng
Format: epub, mobi
ISBN: 978-0-307-83349-5
Publisher: Knopf Doubleday Publishing Group
Published: 2013-01-22T16:00:00+00:00



In this view, our notion of reality is at variance with actual reality, because it is so often shaped by inadequate or misleading accounts. Because we are surrounded by clichéd depictions of the world, our initial response to Monet's Impression, Sunrise may well be to balk and complain that Le Havre looks nothing like that, much as our initial response to Aunt Léonie and Albertine's behavior may be to think that such comportment lacks any possible basis in "reality." If Monet is a hero in this scenario, it is because he has freed him self from traditional, and in some ways limited, representations of Le Havre, in order to attend more closely to his own, uncorrupted impressions of the scene.
In a form of homage to the Impressionist painters, Proust inserted one into his novel, the fictional Elstir, who shares traits with Renoir, Degas, and Manet. In the seaside resort of Balbec, Proust's narrator visits Elstir's studio, where he finds canvases that, like Monet's Le Havre, challenge the orthodox understanding of what things look like. In Elstir's seascapes, there is no demarcation between the sea and the sky, the sky looks like the sea, the sea like the sky. In a painting of a harbor at Carquethuit, a ship that is out at sea seems to be sailing through the middle of the town, women gathering shrimps among the rocks look as if they were in a marine grotto overhung by ships and waves, a group of holidaymakers in a boat look like they were in a cariole riding up through sunlit fields and down through shady patches.
Elstir is not trying his hand at surrealism. If his work seems unusual, it is because he is attempting to paint something of what we actually see when we look around, rather than what we know we see. We know that ships don't sail through the middle of towns, but it can sometimes look as if this is happening when we see a ship against the backdrop of a town from a certain light at a certain angle. We know there is a demarcation between the sea and the sky, but it can on occasion be hard to tell whether an azure-colored band is in fact part of the sea or the sky, the confusion lasting only until our reason reestablishes a distinction between the two elements which had been missing at first glance. Elstir's achievement is to hang on to the original muddle, and to set down in paint a visual impression before it has been overruled by what he knows.
Proust was not implying that painting had reached its apotheosis in Impressionism, and that the movement had triumphantly captured "reality" in a way that previous schools of art had not. His appreciation of painting ranged further than this, but the works of Elstir illustrated with particular clarity what is arguably present in every successful work of art: an ability to restore to our sight a distorted or neglected aspect of reality. As Proust
Download


Copyright Disclaimer:
This site does not store any files on its server. We only index and link to content provided by other sites. Please contact the content providers to delete copyright contents if any and email us, we'll remove relevant links or contents immediately.