Detective of the Occult by Robert E Howard
Author:Robert E Howard [Howard, Robert E] , Date: August 5, 2020 ,Views: 313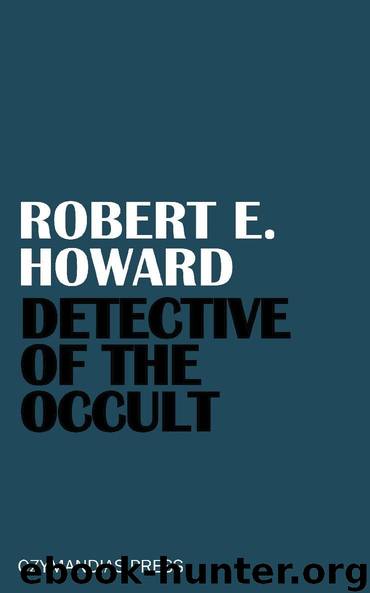 Author:Robert E Howard [Howard, Robert E]
Language: eng
Format: epub
ISBN: 9781531290863
Publisher: Ozymandias Press
Published: 0101-01-01T00:00:00+00:00



* * *
GRAVEYARD RATS
~
1. — THE HEAD FROM THE GRAVE
SAUL WILKINSON AWOKE SUDDENLY, AND lay in the darkness with beads of cold sweat on his hands and face. He shuddered at the memory of the dream from which he had awakened.
But horrible dreams were nothing uncommon. Grisly nightmares had haunted his sleep since early childhood. It was another fear that clutched his heart with icy fingers—fear of the sound that had roused him. It had been a furtive step—hands fumbling in the dark.
And now a small scurrying sounded in the room—a rat running back and forth across the floor.
He groped under his pillow with trembling fingers. The house was still, but imagination peopled its darkness with shapes of horror. But it was not all imagination. A faint stir of air told him the door that gave on the broad hallway was open. He knew he had closed that door before he went to bed. And he knew it was not one of his brothers who had come so subtly to his room.
In that fear-tense, hate-haunted household, no man came by night to his brother's room without first making himself known.
This was especially the case since an old feud had claimed the eldest brother four days since—John Wilkinson, shot down in the streets of the little hill-country town by Joel Middleton, who had escaped into the post oak grown hills, swearing still greater vengeance against the Wilkinsons.
All this flashed through Saul's mind as he drew the revolver from under his pillow.
As he slid out of bed, the creak of the springs brought his heart into his throat, and he crouched there for a moment, holding his breath and straining his eyes into the darkness.
Richard was sleeping upstairs, and so was Harrison, the city detective Peter had brought out to hunt down Joel Middleton. Peter's room was on the ground floor, but in another wing. A yell for help might awaken all three, but it would also bring a hail of lead at him, if Joel Middleton were crouching over there in the blackness.
Saul knew this was his fight, and must be fought out alone, in the darkness he had always feared and hated. And all the time sounded that light, scampering patter of tiny feet, racing up and down, up and down...
Crouching against the wall, cursing the pounding of his heart, Saul fought to steady his quivering nerves. He was backed against the wall which formed the partition between his room and the hall.
The windows were faint grey squares in the blackness, and he could dimly make out objects of furniture in all except one side of the room. Joel Middleton must be over there, crouching by the old fireplace, which was invisible in the darkness.
But why was he waiting? And why was that accursed rat racing up and down before the fireplace, as if in a frenzy of fear and greed? Just so Saul had seen rats race up and down the floor of the meat-house, frantic to get at flesh suspended out of reach.
Download


Copyright Disclaimer:
This site does not store any files on its server. We only index and link to content provided by other sites. Please contact the content providers to delete copyright contents if any and email us, we'll remove relevant links or contents immediately.