Claudius the God by Robert Graves
Author:Robert Graves [Graves, Robert] , Date: July 16, 2017 ,Views: 624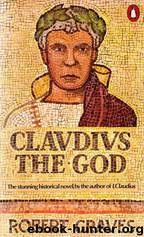 Author:Robert Graves [Graves, Robert]
Language: eng
Format: epub, mobi
Tags: General, Biography & Autobiography, Fiction
ISBN: 9780141911373
Google: VZG70dojulYC
Publisher: Penguin UK
Published: 2006-08-03T09:42:11+00:00



AULUS, as I have already related, landed in Britain without meeting any opposition. He built a strong base camp at Richborough, which he garrisoned with veterans from each regiment, pulled up his transport on the shore, well out of the reach of storms, and began a cautious advance through Kent, taking the route followed by Julius on his second expedition - the route indeed that all the invaders of the island have naturally, taken. At first he met with less resistance than Julius, because the passage: of the Stour did not need to be forced. The King of East Kent, a vassal of Caractacus and Togodumnus, decided not to man the prepared positions there. His overlords had withdrawn their main army to Colchester when they heard that our invasion could not possibly take place that-year, and his own forces were insufficient to defend the river successfully. He came to meet Aulus with tokens of peace and after an exchange of presents swore alliance and friendship with Rome. The King of East Sussex, which lies to the west of Kent, came into camp on the same errand a few days later. Between the Stour and the River Medway, the next natural barrier, Aulus encountered little serious resistance. But small parties of chariot-fighters disputed the frequent barriers of felled trees and thorn bushes that had been thrown across the track. Aulus's advance-guard commander was now instructed not to force these barriers, but as soon as they were sighted to envelop them with cavalry detachments and capture the defenders. This slowed down progress, but no lives were wasted. Most of the Kentish men seemed to have retired into the Weald - thick forest-land from which it would be most difficult to dislodge them. But increasingly large forces of chariotry began to appear on the flanks of the advancing column, charging down on foraging parties and forcing them to fall back on the main body. Aulus was aware that the mood in which the Kentish men would finally emerge from the Weald, whether meekly to offer their submission or valiantly to cut off his retreat, depended on his success against the Catuvellaunians. However, his base camp was well defended.
When he came to the tidal reaches of the Medway, which Julius, in his second campaign, had forded without loss, he found the enemy assembled in great force behind positions that had been prepared; some months before. Caractacus and Togodumnus were both present with all their tributary princes and an army of some 60,000 men. Aulus had no more than 35,000 effectives with him. The narrow ford, across the river had been made practically impassable by a succession of deep wide channels cut across it parallel with the banks. The Britons were bivouacked in a careless fashion on, the other, side. The nearest ford upstream was a day's march away and was reported by prisoners to be similarly fortified. Downstream there was no ford: the river, after debouching into the Thames estuary not far from this spot, spread out across impassable mud-flats.
Download


Copyright Disclaimer:
This site does not store any files on its server. We only index and link to content provided by other sites. Please contact the content providers to delete copyright contents if any and email us, we'll remove relevant links or contents immediately.