Bring Me Back by B.A.Paris
Author:B.A.Paris , Date: June 23, 2022 ,Views: 43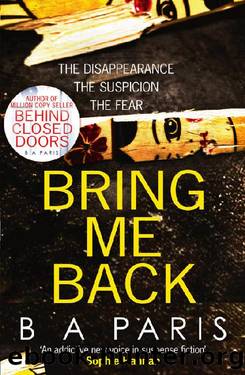 Author:B.A.Paris
Language: eng
Format: mobi
Publisher: HarperCollins Publishers
Published: 2018-03-08T08:00:00+00:00



The envelope is brown, the sticker with our typed address, white. Even though Ellen had said it came in the post, I'd presumed it had been put through the door, because the other Russian dolls had all been hand-delivered. But there are stamps, and a postmark. I bring it up to eye level.
'Cheltenham,' says Ellen. 'It was the first thing I checked when I saw what was inside.' Again her voice has that mixture of excitement and fear. 'She's here, Finn, close by. After all these years. It's incredible.' She hesitates. 'But also a bit scary. I mean, it's wonderful that she's alive, but it's not going to be easy, is it?'
'No, probably not,' I say, acknowledging the understatement.
By the time I go out to my office three hours later I feel mentally exhausted from trying to keep up with Ellen's continual speculation about where Layla has been for the past twelve years and what will happen now that she's back. It had been hard to find reasons as to why I shouldn't phone Tony to ask his advice, or Harry to tell him the good news. When she asked me if I would be willing for Layla to stay with us if she needed to, just until she had sorted herself out, I began to realise something of the nightmare I could soon be in and I felt real anger towards Layla for sending the doll to Ellen. How much longer was I going to be able to stall before Ellen insisted that I speak to Tony? Did Layla understand what she had set in motion? I take out my mobile, determined to spell it out to her. But she's beaten me to it.
Did Ellen receive the Russian doll I sent her?
Yes
Does she know we're in contact?
No. Can we meet now?
Soon
What is it you want, Layla?
The answer is so long in coming that I think she's going to leave me hanging again. But then a message comes in, no text, just attachments. I open the first one and find myself looking at a photo of the two of us, taken on Tower Bridge by one of Layla's friends from the wine bar. Then other photos, set up by Layla on a delayed timer so that she could run and join me in front of the camera, her arms round my neck, her lips on my cheek. It's painful to remember how much in love we were. I continue to scroll through photo after photo, evidence of how happy we were together, and the pain intensifies. And at the end, a one-word answer to my question.
YOU
Download


Copyright Disclaimer:
This site does not store any files on its server. We only index and link to content provided by other sites. Please contact the content providers to delete copyright contents if any and email us, we'll remove relevant links or contents immediately.