Big Sky Summer by Miller Linda Lael
Author:Miller, Linda Lael [Miller, Linda Lael] , Date: October 10, 2020 ,Views: 768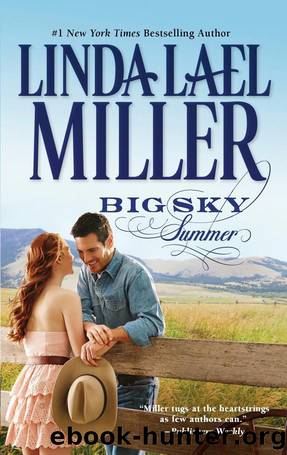 Author:Miller, Linda Lael [Miller, Linda Lael]
Language: eng
Format: epub
Tags: Romance
ISBN: 0373777655
Publisher: HQN
Published: 2013-01-01T07:00:00+00:00



CHAPTER TEN
"WELL, BIG BROTHER," Brylee said peevishly the next morning as she set a coffee cup down on the table in front of Walker with so much force that some of the brew spilled over and burned his fingers, "you sure can keep a secret—I'll give you that."
Walker tried to smile, fell a little short of full wattage. "Why is it," he countered, "that you only wait on me when you're pissed off?"
Brylee dropped into the chair directly across from his. Decked out in her usual jeans, long-sleeved T-shirt and sneakers, with her hair twisted into a no-nonsense bun at the back of her head, she was dressed for the warehouse rather than the office, since that was where she spent most of her time. Not for her the high heels and custom-made power suits other lady CEOs probably favored.
Not that there were a whole lot of those running around Parable County, Montana, to provide him with a frame of reference.
"I wasn't 'waiting on' you," she pointed out crisply. "If you must know, my first and strongest inclination was to empty the cup over your head." The flush in her cheeks indicated that she was gathering steam. "All these years," she went on, "I've had a niece and a nephew, and you never bothered to tell me?"
Walker took a thoughtful sip of his coffee, grateful that he wasn't wearing it instead of drinking it. "Casey didn't want anybody else to know," he said reasonably. "And, anyway, I figured you'd guessed it on your own."
Brylee didn't touch her own coffee, nor was there any sign of breakfast, not that he'd expected her to cook for him or anything. Most mornings, though, she whipped up scrambled eggs or pancakes for herself, and shared them with him.
"I didn't have a clue," she said frankly, simmering down a little.
He hoped.
Walker said nothing, since excuses were all he had to offer, and he was having enough trouble with his conscience as it was.
"Why would Casey want to keep a secret like that?" Brylee asked, clearly not ready to let the subject drop, whether her brother had anything worthwhile to say or not.
A man of few words, Walker groped around inside himself for a viable reply. "She was just starting to make it as a singer at the time," he said finally. "I guess she thought I'd drag her to the altar, bring her back here to the ranch and keep her barefoot and pregnant for the rest of her life."
Brylee crooked a smile at that, but it was brief. In that getup, with no makeup on her face, she looked more like a teenager than the head of a company worth millions. "Don't try to put all the blame on Casey, Walker Parrish. You had a say in this, too. You could have spoken up at any time, with or without her blessing." She paused, and her throat worked visibly as she struggled with some private emotion. "Your daughter is devastated," she eventually went on.
Download


Copyright Disclaimer:
This site does not store any files on its server. We only index and link to content provided by other sites. Please contact the content providers to delete copyright contents if any and email us, we'll remove relevant links or contents immediately.