Badge of the Assassin by Robert K. Tanenbaum
Author:Robert K. Tanenbaum , Date: December 3, 2019 ,Views: 161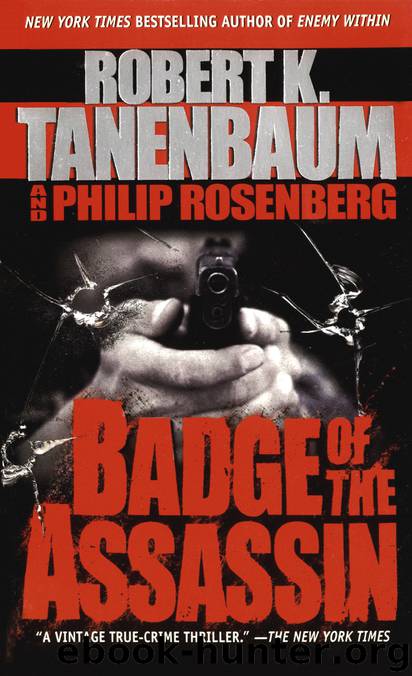 Author:Robert K. Tanenbaum
Language: eng
Format: epub
Publisher: Pocket Books
Published: 1979-12-02T16:00:00+00:00



Fifteen
NEW YORK CITY COPS HAD BEEN WORKING on the Piagentini-Jones case for two and a half years. It was New York City cops who found and arrested the Torres brothers, two of those accused of the killings. It was New York City cops who produced the first leads that ultimately led them to identify the gunman who shot Joseph Piagentini. And it was a New York City cop who found Linda Gill in New Orleans, setting off the string of events that led to the capture of Herman Bell. Yet even before Bell could be transported from Second Street to police headquarters, FBI agents, communicating with the base by radio, sent out the word that led to a lightning-fast press release crediting the Federal Bureau of Investigation with the capture of a long-sought fugitive on its Ten Most Wanted List. The story went out instantaneously over the wire services.
Publicity, though, wasn't what was on our minds just then. The essential thing was to question Bell the moment he was brought in. Even a hardened militant like Bell could go soft for a while after all he had been through. For those first few moments when Bell found himself suddenly surrounded, he must have known he was a dead man, the only question in his mind whether they would kill him cleanly, as Bottom had killed Waverly Jones, or whether they would skewer him to the sidewalk with bullets, the way he himself had killed Joseph Piagentini. I already knew from detectives who had made it back to headquarters ahead of the car bearing the prisoner that Bell was badly shaken. "That fucker fancies himself some tough kind of item," one of them told me. "But he pissed in his pants when he saw us coming down on him." Given time—and it wouldn't take long—he would pull himself together. I wanted to question him before that happened.
It was then that I learned the price we were going to have to pay for cajoling the FBI into putting Bell on its Ten Most Wanted List and for letting the feds make the arrest. Throughout the law-enforcement community, it is widely believed that the FBI is reluctant to put a fugitive on the list until it has a reasonably good idea of where he can be found, for the bureau has no desire to embarrass itself by calling attention to its failures. Yet District Attorney Frank Hogan and Assistant D.A. John Keenan, who was in charge of the Piagentini-Jones case at the time, wanted Bell's name on the list and pressured the bureau until it complied. They knew that all around the country, especially in smaller communities, cops and deputy sheriffs study the list assiduously, for an assist in the capture of a most-wanted suspect is the capstone of their fantasies.
Unfortunately, there is another side to the coin, and that was the side I was getting to see in the hours after the arrest. When the FBI puts a man on its list, it takes a proprietary interest in him.
Download


Copyright Disclaimer:
This site does not store any files on its server. We only index and link to content provided by other sites. Please contact the content providers to delete copyright contents if any and email us, we'll remove relevant links or contents immediately.