All Yesterdays' Parties by Clinton Heylin
Author:Clinton Heylin [CLINTON HEYLIN] , Date: August 6, 2020 ,Views: 301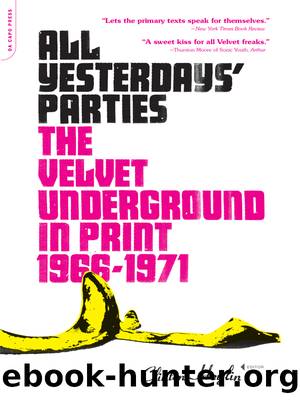 Author:Clinton Heylin [CLINTON HEYLIN]
Language: eng
Format: epub
Publisher: Da Capo Press
Published: 2012-09-07T16:00:00+00:00



AN INTERVIEW WITH STERLING MORRISON
Greg Barrios
Fusion, March 6, 1970
STERLING MORRISON WAS ONCE DESCRIBED AS THE MOST UNDER-RATED person living. He has been with the Velvet Underground since the dawn of history and hopefully will continue in that capacity forever. He was also called indomitable as well as an astute Italian duke. In any case, he is generally conceded to be a superior musician, as far above in talent as he is distant from the hype of current guitarists. In an interview while on tour in Texas, he spoke with Greg Barrios.
The group originally included Angus MacLise?
You know all kinds of secrets. . . . How did you find that out? Yes, originally we were just jamming around and lived in this unheated apartment and Angus lived in the unheated apartment next door. He had just come back from India. He didn't want to be in a group, though, he thought it was fun to play music now and then whenever he felt like it; so Angus couldn't be the drummer though we were good friends. At that time, we did some of the absolutely first mixed media things. . . .
. . . the Exploding Plastic Inevitable?
No, before that. The antecedent of that was done in the old Cine-matheque— all done by film people—things which Angus called ritual happenings. "Rites of the Dream Weapon"—did you ever see a poster for that? Yes, that was the first one. Before Ken Kesey or anybody. Angus had seen a lot of Dervish dancing while he was in India. He had been there for eight years and he came back with his raga scales and assortment of drums and so we used to put on these things and they had films. Piero Heliczer was involved in that.
I've seen his Dirt.
Yeah, and his New Jerusalem. Piero just had a showing about a month ago. He's back in the country. He's enigmatic.
I gather from some of his poetry . . .
What was that? Aquarium Productions?
No. Some items in the Film-makers coop catalog and newsletters.
There are really underground personages who have never been transformed by public acclaim. People like Piero, Angus, Tony Conrad, and Walter DeMaria, though Walter is doing some things in art at present. Underground movies didn't mean a thing in 1964 in New York. You were just sneaking around with no money.
There are many of them still like that, even those who have produced important works like Jack Smith.
Well, yes, and take someone ever more amazing like Harry Smith who should be restrained from destroying his films. He makes those incredible hand-drawn cartoon films. I don't know how long it takes him, they're amazing. Have you seen any of those?
I've seen the Mirror Animations which is quite short.
They're really marvelous. And every once in a while Harry flips out and destroys all he can get his hands on.
I met him once at the Chelsea Hotel with Barbara Rubin.
Yes. Barbara is one of the illuminaries.
Getting back to the group. Where did the name Velvet Underground come from? Did Andy—
No, this was before that.
Download


Copyright Disclaimer:
This site does not store any files on its server. We only index and link to content provided by other sites. Please contact the content providers to delete copyright contents if any and email us, we'll remove relevant links or contents immediately.