All-American Murder by James Patterson
Author:James Patterson [Patterson, James] , Date: January 29, 2018 ,Views: 1592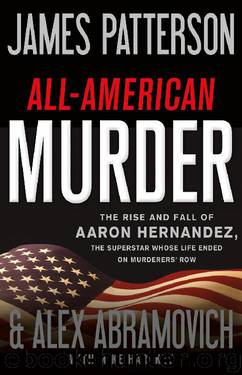 Author:James Patterson [Patterson, James]
Language: eng
Format: epub, mobi
Publisher: Little, Brown and Company
Published: 2018-01-22T00:00:00+00:00



Chapter 49
Carol Bailey is a retired biology professor who still lives next door to Aaron's old apartment in Franklin. On warm days, she sits out in the courtyard, minding her two cats and getting to know her neighbors.
"It's an apartment complex," she explains. "I was in number 11. He was in number 12. We shared a common wall in the living room, kitchen, bathroom, and one of the bedrooms. Because the wall is made out of cement blocks, and extremely insulated, I wasn't able to hear anything. But the hallway doors are not soundproofed at all. I had to pass his unit on the way out of the building. When I did, I could hear and smell anything from inside.
"Number 12 had been empty for a while. Then it was bought by a local real estate agent. I would see him coming and going. A certain amount of work went into the place. I knew they were getting ready to rent it. Somebody mentioned that someone connected to the New England Patriots would be moving in.
"Well, this is a not the high-rent district. This is an affordable area. I pictured a statistician moving in, or a groundskeeper. Goodness knows, I didn't picture a football player! But one day, I went out into a courtyard and an SUV—a big one—drove in. I didn't recognize it and thought, 'Oh, this is someone who doesn't live here.' Then that person parked the car and got out. I said, 'Hi! Are you moving in?' He said, 'Yes,' and I said, 'Oh, you must be my new neighbor!' He said, 'I'm moving in with my cousin, Aaron,' but it didn't register with me. He might as well have said 'Alan,' or 'Adrian.' But he was very pleasant, we had a very nice chat, and then he went in."
Bailey's new neighbor told her that his name was "George." Then, a day or two later, another vehicle that Bailey did not recognize drove into the courtyard. "This was a great, big, black Hummer," Bailey says. "The guy who got out was tall. He's got gray sweatpants and a gray hoodie. I said, 'Hi! You must be my other new neighbor. You must be George's cousin!'
"He looked at me and grunted. That was it. I could see his face very clearly, and a little later I went online, looked up Patriots players, and saw one named Aaron Hernandez who looked exactly like the man I had seen."
Sometimes "George" and Aaron would come in together. Sometimes they came and went separately.
"Whenever I would see George," Bailey says, "he would give me a great big smile and wave and say pleasant things: 'Nice day' or 'How're you doing.' Every time Aaron came or went and I said anything to him, he either ignored me or grunted. I didn't see him very often. He probably came in later in the evening, when I had come in from the courtyard. But then I'd be sitting here, getting my supper, and all of a sudden, a strange smell would come in under my door from the hallway.
Download


Copyright Disclaimer:
This site does not store any files on its server. We only index and link to content provided by other sites. Please contact the content providers to delete copyright contents if any and email us, we'll remove relevant links or contents immediately.