Across the Pond (Raptors Book 2) by RJ Scott & V.L. Locey
Author:RJ Scott & V.L. Locey [Scott, RJ] , Date: January 18, 2020 ,Views: 109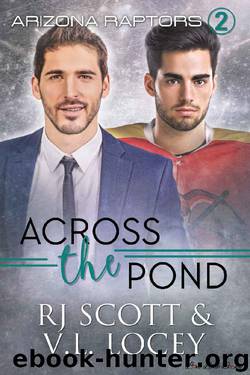 Author:RJ Scott & V.L. Locey [Scott, RJ]
Language: eng
Format: epub
ISBN: 9781785641947
Publisher: Love Lane Books Ltd
Published: 2019-11-09T18:30:00+00:00



Ten
Seb
Okay, so the kiss in the park? That messed with my head more than I cared to think about. First of all, we'd been impossibly stupid out in the open like that, even if it was dark and the park deserted. And we hadn't stopped at one. No, we'd kept going, moving back into the trees, his pliant body pinned between me and the trunk of a huge, sprawling magnolia, and we'd kissed for what seemed to be forever, while picking twigs from our hair. We'd only stopped when I got a cramp from the awkward position, and we'd fallen to the grass, laughing. Because, hell, it's funny shit to get a cramp while kissing, or at least it was that night. He was away now, on day four of a six-day road trip, taking him to Canada, and I'd never seen anyone as excited as him heading out with the team.
So much so that I wanted to run after him like a bloody idiot. I could just imagine me jogging down after the bus, blindly attempting to get onto the damn thing.
"Hey, wake up, you wanker!"
I jumped a mile in my chair and looked up to see a grinning Jason in the doorway. Four years in England and he'd picked up all the best curse words, which he used loudly with a fake British accent and always ended up cackling like a moron.
"Jesus," I muttered and threw the nearest thing I had to hand, an empty binder I was labeling. It bounced off the wall next to him, and he never even flinched.
"There's a reason you never played sports, you know," he deadpanned and then slid into the guest chair opposite me. "Your aim is for shit."
I couldn't let that go and tossed an entire pot of paperclips at him, several lodging in his hair.
"My aim is fine," I said and narrowed my eyes at him as I expected retaliation.
He shook his head, and the paperclips fell to the floor, all apart from one that attached itself to a curl. I could've told him it was there, but what would have been the fun in that? He didn't retaliate, only crossed his arms over his chest and watched me.
What is he watching me for? There was a lot going on behind his eyes, and I waited for everything to spill out. I was used to this. Cam was the oldest and all calm, Mark the youngest, whom I hardly knew, even though I'd been with the Raptors for nearly two months, and then there was fiery Jason, who told people exactly what he thought. Not so much now with his careful, considerate gaze.
"It's Garcia we need to talk about," he began, and my chest tightened in shock.
I picked up my soda to hide my reaction, which was heavy on the guilt and worry. "What about Garcia?" I asked as calmly as I could manage. Fuck. Had we messed things up? Were people aware of him and me? Why the
Download


Copyright Disclaimer:
This site does not store any files on its server. We only index and link to content provided by other sites. Please contact the content providers to delete copyright contents if any and email us, we'll remove relevant links or contents immediately.