Whore by Elise Faber
Author:Elise Faber , Date: August 6, 2020 ,Views: 231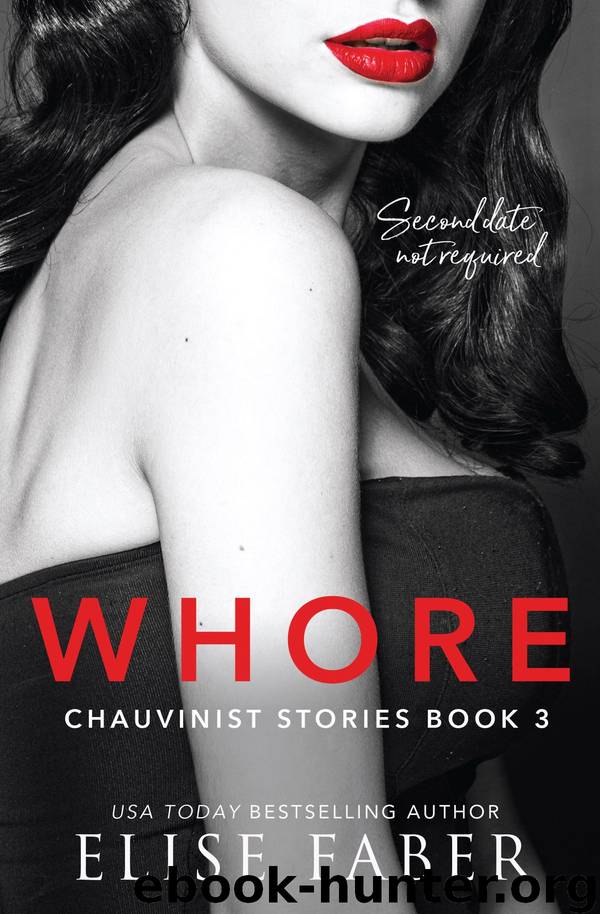 Author:Elise Faber
Language: eng
Format: epub
ISBN: 9781946140579
Publisher: Elise Faber



A beat.
And now you'll never get rid of me. *insert evil laughter here*
I sucked in another of those breaths. Just go for it.
Keep bribing me with sugary carbs and I'll consider it.
I hit send before I really considered what I wrote, and when I saw those words on my cell's screen, I couldn't believe that my fingers had typed them. I'll consider it? Holy fucking shit. My hands shook as I set my phone down, chest heaving, panic rising again—
Dammit.
"Just enough."
Cold water splashed on my face, hair pulled back into a tight ponytail, clothes straightened and free of wrinkles.
And it was enough.
To snap out of this cycle, to accept Damon wasn't my ex. That I was different with him than I'd been with Tim. That I was different now. I'd pushed through the nightmare, had let it lead me to a new life and a new future. That was great and showed I was strong, that I could persevere, but—
I sighed. But if I pulled back now, had I really moved beyond the past?
No, because if I didn't do that with all parts of my life, then it didn't mean anything. If I was too scared to even consider that I might be able to build a future with a loving partner, with someone like Damon, then I had no hope of doing it with anyone.
But . . . I had. I was already breaking through that wall, wanting more.
And I was starting to think that I'd put so much effort into pushing Damon away in the first place, specifically because I knew deep down that he was different, knew he had the ability to get inside my armor.
"He is different," I whispered to myself, ignoring my wide green eyes. "He's everything."
My heart skipped a beat, but I nodded and stepped back from the counter.
No more dithering. I was doing this.
"Eden?" Damon called, his voice slightly muffled. "Everything okay?"
Was it?
I glanced in the mirror, nodded once more, though more firmly this time.
Everything was going to be just fine.
I strode out of the bathroom, pushed through the open doorway, and spotted Damon at the end of the hall.
Not thinking. Not this time.
Not stopping. Not this time.
I ran toward him and launched myself into his arms. The containers in his hands hit the floor, food exploding everywhere, but I didn't pay any more attention to that than I would have a gentle breeze. It was Damon I was focused on, Damon I needed more than anything, Damon—
Whose lips were soft, whose body was hard, who . . . kissed me like I was the most precious object in the universe before gently separating his mouth from mine.
"Eden, baby," he said softly, his lips curved, chocolate eyes warm. "You've made a mess of breakfast again."
Clink. A big piece of the armor I wore fell to the floor.
I was surprised the sound didn't reverberate through the house, it felt so monumental inside my soul, but . . . Damon didn't appear to notice. He
Download


Copyright Disclaimer:
This site does not store any files on its server. We only index and link to content provided by other sites. Please contact the content providers to delete copyright contents if any and email us, we'll remove relevant links or contents immediately.