Three Generations by Yom Sang-Seop
Author:Yom Sang-Seop , Date: October 29, 2022 ,Views: 193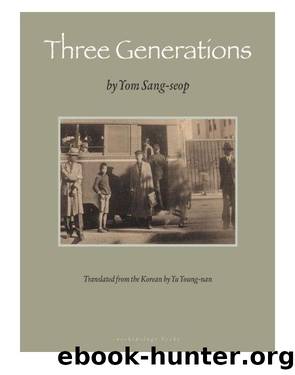 Author:Yom Sang-Seop
Language: eng
Format: epub
Publisher: Steerforth Press
Published: 2011-09-19T16:00:00+00:00



Maedang House
When the clock struck nine, Gyeong-ae left the cinema and hired a car.
She got out on the avenue at the entrance to Jae-dong and entered an alley accompanied by the driver. Following Byeong-hwa's directions, Gyeong-ae made her way carefully down the dark alley, but after a while, she became confused, for all the houses looked alike and there were no streetlights. Suddenly, a gate creaked open and whispers were heard.
Gyeong-ae motioned to the driver to stand still, as they overheard two shadowy forms.
"What should I do? What do I say to explain why I came here?" said a young woman's voice, filled with concern.
An older woman's soothing voice answered, "Don't worry about it. I blocked his view with my body. And he was drunk, so he couldn't have seen you clearly."
"I didn't know he went in just to relieve himself, and that's why I told you to come out," hissed another young voice.
"Don't worry. Make something up, like we've been friends for a long time, and you just dropped by to see me," said the older woman.
"Still, they'll blame me for going out at night when he's so sick." The woman, stepping out of the gate, kept fretting.
"Even so, he won't say anything. How can he talk? What about him, going out drinking when his father is sick! He'll pretend nothing happened."
"That's true, but what a coincidence!"
"It's because I had gone out. But go on now, before it gets too late."
"Yes, good-bye!"
"Good-bye, ma'am."
The voices were now loud enough to carry, and a small shadow darted out to the alley.
When their good-byes rang out, Gyeong-ae and the driver stepped aside and were partially hidden by the eaves. The woman momentarily stopped and stared at them, wondering if they might be acquaintances. She couldn't see well in the dark, though, so she went on. A cape was draped around her, and perched firmly on her head, buried deep in a black fur collar, was a traditional cap, decorated with golden butterflies and stripes that glittered even in the darkness.
That must be the Suwon woman! Gyeong-ae laughed to herself. Sang-hun must have unexpectedly shown up while she was there. She had hidden herself and was sneaking out while he went to the outhouse, but he had seen her. Gyeong-ae clucked her tongue, thinking, What shameful behavior all around! She asked the driver to go inside and call for Jo Sang-hun. If he was told that Sang-hun was not there, she instructed him to say that someone had been sent with a car from his father's house with an urgent message.
Gyeong-ae saw that the brand-new gate, with an overhead electric light, was now shut. The driver shook the gate and then stood quietly. Gyeong-ae hid herself in the shadows.
A murmur was heard, perhaps the buzz of an exchange with a female servant. The driver rushed over and said, "It's all right. Looks like he's coming out." He started to run off, intending to wait in the car to let them have a quiet
Download


Copyright Disclaimer:
This site does not store any files on its server. We only index and link to content provided by other sites. Please contact the content providers to delete copyright contents if any and email us, we'll remove relevant links or contents immediately.