The Year of the Flood: A Novel by Margaret Atwood
Author:Margaret Atwood [Atwood, Margaret] , Date: August 2, 2020 ,Views: 20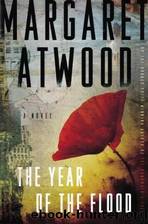 Author:Margaret Atwood [Atwood, Margaret]
Language: eng
Format: epub
Tags: Fiction, Literary, Visionary & Metaphysical
ISBN: 9780385528771
Google: mh9qmAEACAAJ
Publisher: Nan A. Talese/Doubleday
Published: 2009-07-15T23:36:39+00:00



Wakulla walked home with me, and Jimmy came too. He fooled around a lot — made jokes, expected us to laugh — and Wakulla did laugh, in a polite way. I could see that Jimmy had a big crush on her, though Wakulla told me later that she couldn't see Jimmy in any way other than as a friend.
Wakulla turned off halfway to go to her house, and Jimmy said he'd continue along with me because it was on the way. He was irritating when there was more than one other person: maybe he felt it was better to make a fool of yourself than to have other people do it for you. But when he wasn't putting on an act he was much nicer. I could tell he was sad underneath, because I was that way myself. We were sort of like twins in that way, or so I felt at the time. He was the first boy I'd ever really had for a friend.
"So, it must be weird for you, being here in a Compound, after the pleeblands," he said one day.
"Yeah," I said.
"Was your mom really tied to the bed by a deranged maniac?" Jimmy would come right out with stuff other people might think but would never say.
"Where did you hear that?" I said.
"Locker room," said Jimmy. So Lucerne's fable had seeped out.
I took a deep breath. "This is between us, right?"
"Cross my heart," said Jimmy.
"No," I said. "She wasn't tied to the bed."
"Didn't think so," said Jimmy.
"But don't tell that to anyone. I really trust you not to."
"I won't," said Jimmy. He didn't say, Why not. He knew that if everyone heard Lucerne had been bullshitting, people would know she hadn't been kidnapped, she'd merely cheated big time. What she'd done had been for love, or just sex. And she was back at HelthWyzer with her loser of a husband because the other guy had tossed her over. But she'd rather die than admit it. Or else she'd rather kill someone.
Download


Copyright Disclaimer:
This site does not store any files on its server. We only index and link to content provided by other sites. Please contact the content providers to delete copyright contents if any and email us, we'll remove relevant links or contents immediately.