The River Why by David James Duncan
Author:David James Duncan , Date: October 8, 2019 ,Views: 96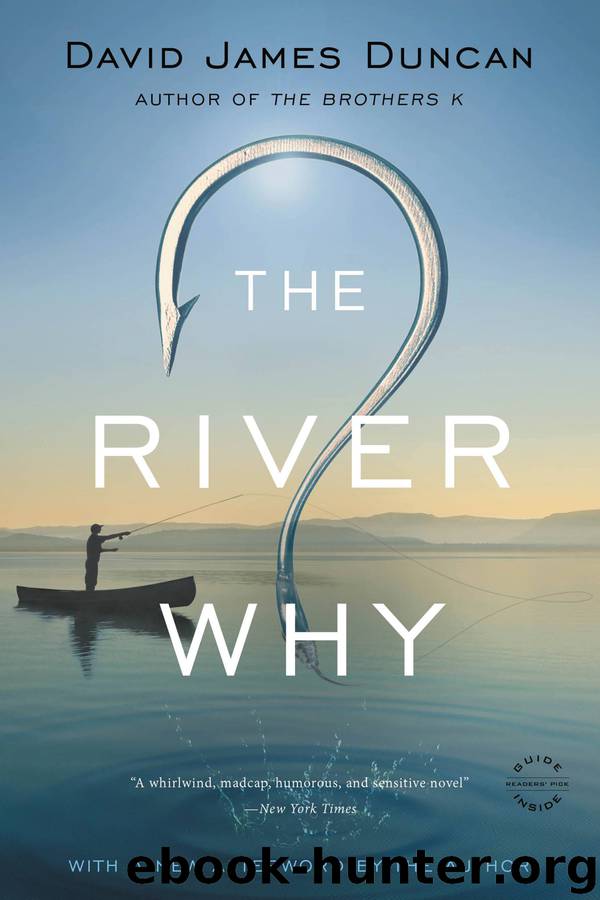 Author:David James Duncan
Language: eng
Format: epub
Tags: Fiction / Literary, Fiction / Coming Of Age, Nature / General
Publisher: Little, Brown and Company
Published: 2015-09-07T16:00:00+00:00



The warble of the water owl poor Gus became.
A salmon in a gill-net little Gus became.
The ouzel's cry on a frozen creek,
the field mouse in the kestrel's clasp,
the otter whelp weeping in the nettle patch
poor Gus became.
The grass blade growing in the asphalt slab,
the baying of a lone hound in bare winter,
a gnat in a cobweb,
a trout in a creel,
a child in a night wood without a trail
poor Gus's heart became.…
At last she stirred and I hid again. I heard her slide off the boulder. I watched her return to the alder and climb it with the grace and agility that marked everything she'd done. She dressed in her fishing perch. As she climbed down I broke at last out of hiding, striving hopelessly to feign innocence, ignorance, and a fresh arrival. To give her fair warning I crashed through the underbrush like a great landed nabob, whistling, mumbling, resolved on an attempt at bluff gruff fishermanly good humor. Just as I prepared my jolly hello I saw her face full on for the first time… Piteous Christ it was beautiful! I croaked, "Wet luke!"
She froze, and said nothing. I tried to laugh: what emerged from my gullet was the death rattle of a wen-headed Hoosier. Attempting to explain my initial utterance, I gave vent to these sounds: "Oh! Me, I say Wet luke but A meant to snay 'What muck,' I mean 'Lut,' orm, um.…"
That did it. Still silent, the lovely girl leaned over and picked up a big rock. Grinning my face off, I blurted, "AWrr! Yore rock hown!"
O ye hodags and ye ditzels! I imagined what she must be going through.… Just got her clothes on—what few she had—when a blubbering Sasquatch comes heaving out of the underplants making incomprehensible mating gurgles in its hairy throat! I imagined my beard full of lint, my teeth yellow, my fly open and undershorts showing there the color of my teeth, and thick green boogers clogging both my nostrils. I stared at the ground: there was a wee little snail crawling peacefully along down there. O ye Newark New Jersey how I wished I was that snail! How softly I'd sneak under the nearest rock and die! She stood before me, terribly beautiful, terribly frightened, while I gawked on, helpless to hide, feeling my face was the size of a billboard. I had to do something. "Don't get scored," I burbled. "Me gog peech inspediment. M-m-my-I juss a marmless fissamren!"
"Oh," she said, clutching the rock tighter, lips quivering, eyes the size of ripe blue apples.
It was too awful. I gurbled, "Ope! Got go now… Goodo, mmm, Good lerk! Bye." I stumbled down to the river, picked up a forty-pound rock as stupid-looking as me, held it to my belly, strode forthrightly forward into the water, and kept on striding till the Tamanawis swallowed me alive. Relieved to be sunk from sight by my forty pounds of stupid, I staggered through the deeps, where the slime and fish-shit and mudsuckers lurk, hoping to black out, inhale a fatal dose of river, get it over with then and there.
Download


Copyright Disclaimer:
This site does not store any files on its server. We only index and link to content provided by other sites. Please contact the content providers to delete copyright contents if any and email us, we'll remove relevant links or contents immediately.