The Lions of Fifth Avenue by Fiona Davis
Author:Fiona Davis , Date: August 6, 2020 ,Views: 504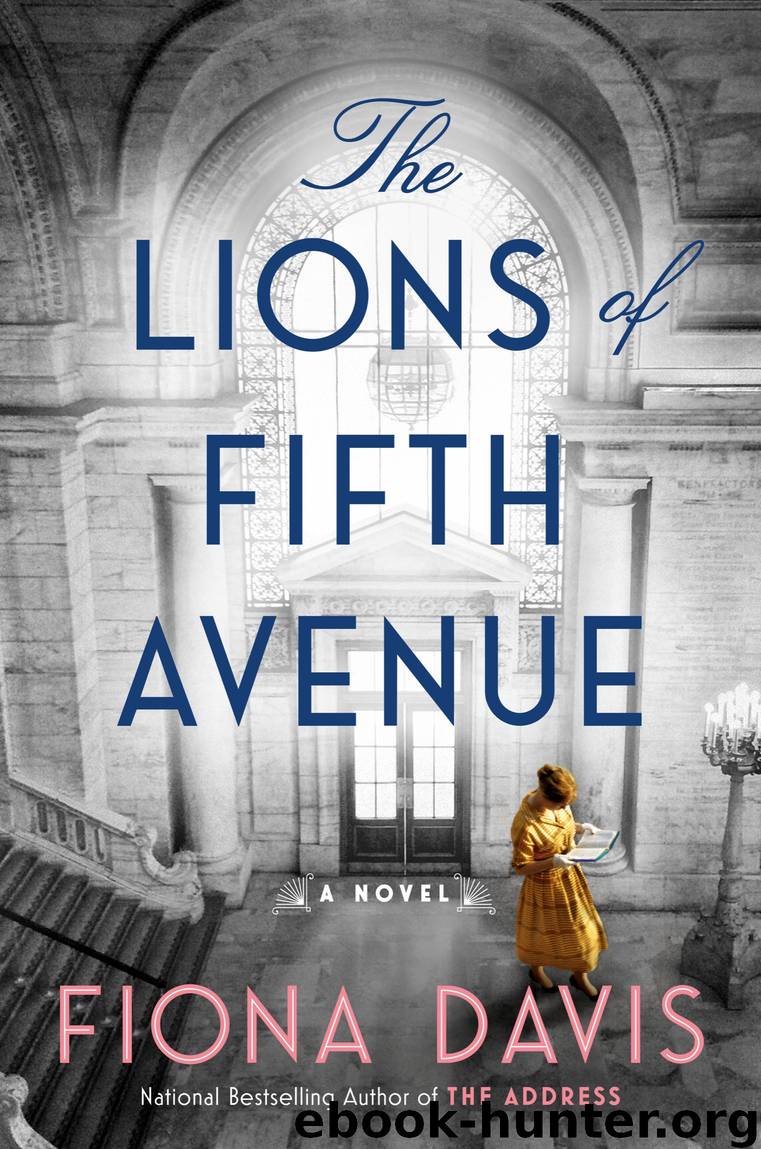 Author:Fiona Davis
Language: eng
Format: epub, mobi
Publisher: Penguin Publishing Group
Published: 2020-08-03T16:00:00+00:00



CHAPTER FOURTEEN
New York City, 1993
A few weeks after Sadie's successful sting downtown, she was still giddy. Dr. Hooper had personally brought the books to the Berg Collection and handed them over, thanking her and Nick for their detective work. Nick had kept his eyes on the books through the whole speech, as if he was scared they'd escape from their clutches again if he glanced away. After Dr. Hooper left, Nick had watched as Sadie secured them in the small safe that was lodged in the wall of her office. It was too small to hold much, but until the exhibit was up, she didn't want to risk their being out of her purview.
Then she'd turned and given Nick a hug.
She hadn't meant to; it was just he was standing right behind her and she was so happy and his bulk seemed so huggable. He'd patted her back a couple of times and then disengaged, and she'd looked up expecting to see horror in his eyes. But it wasn't that. He seemed sort of stunned, blinking hard, like he'd been hit upside the head instead of given a friendly squeeze.
Since then, he'd stopped in to check on the Berg every couple of days and give her an update on the investigation. When she heard his confident knock on the door—a very different sound from the discreet rap of the regular scholars—she had to stop herself from rushing to open it. It was nice to have a friend.
After her divorce, most of Sadie and Phillip's friends had stayed close with Phillip, who was much more a social animal than Sadie; he was the life of the party. She had to admit she'd turned maudlin after being dumped, not much fun to be around and unapologetic about that fact, before Valentina's birth had provided a welcome distraction. Until now, though, she hadn't realized how isolated from her few friends she'd become. Maybe it was just because she and Nick had a common enemy in the book thief, or a mutual distrust of Claude, but she liked the camaraderie.
If Claude was the thief, he showed no sign of concern at the turn of events. Whenever a knock on the Berg Collection door revealed Nick, Claude muttered under his breath something about Inspector Clouseau having arrived. Claude's impertinence galled her, not the least because he wasn't out of the clear. The thefts had stopped after his key was revoked, which, to her, meant all signs pointed to him as the culprit. Today, Nick came by while Claude was out at a dentist appointment, and she took the opportunity to ask him about it point-blank.
"What if he is the thief and we never find out the truth?" She spoke quietly, as two patrons were in the room and she needed to stay put and keep watch over them.
"We may not. Not if our boy Chuck keeps his mouth shut. He's hired an expensive attorney to fight the charges."
"Can't Chuck go to jail for having stolen property?"
"Eventually, but his lawyer is going to play this out very slowly.
Download


Copyright Disclaimer:
This site does not store any files on its server. We only index and link to content provided by other sites. Please contact the content providers to delete copyright contents if any and email us, we'll remove relevant links or contents immediately.