The Cockroach by Ian McEwan
Author:Ian McEwan , Date: October 10, 2019 ,Views: 473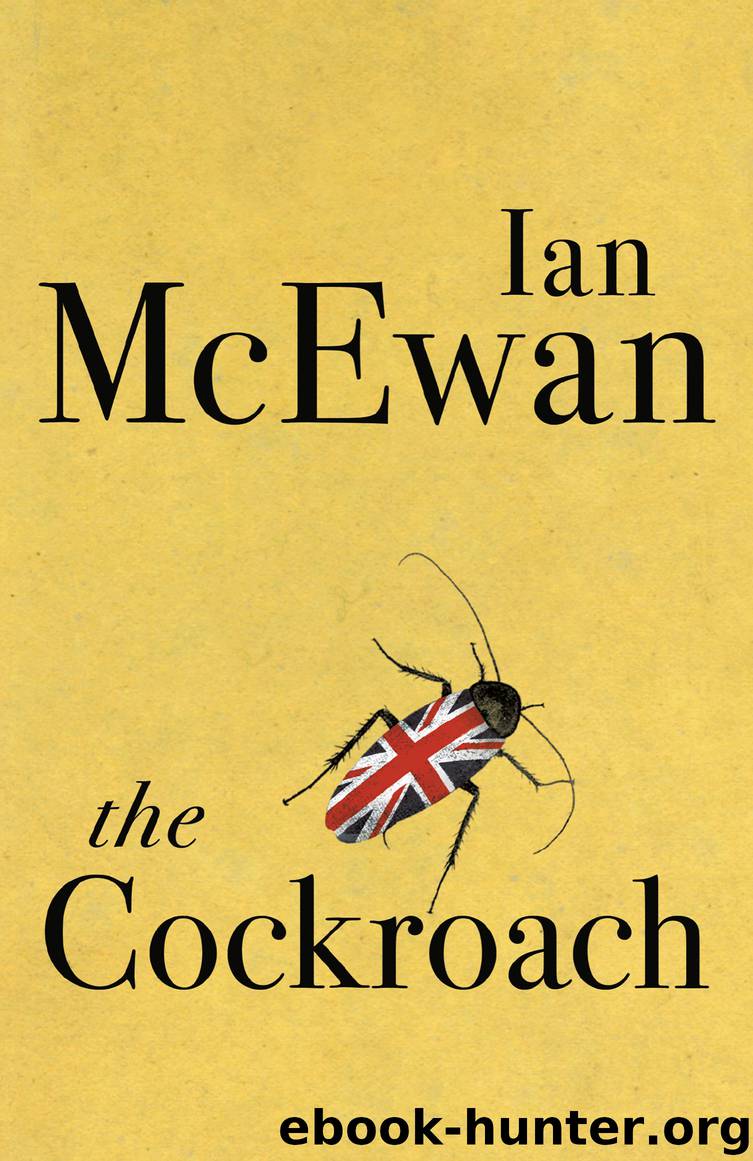 Author:Ian McEwan
Language: eng
Format: epub
Publisher: Knopf Canada
Published: 2019-09-30T16:00:00+00:00



* * *
—
The weather, that dependable emblem of private and national mood, was in turmoil. A five-day, record-breaking heatwave was followed by two weeks of record-breaking rain across the entire country. Like all the lesser rivers, the Thames rose, and Parliament Square languished under four inches of water and much floating plastic and waxed-cardboard detritus. The best photographers could not make the scene picturesque. As soon as the rains stopped, a tall heat strode in from the Azores once more and a second, longer heatwave began. For a week, as the floodwaters receded, there was thick smooth silt underfoot everywhere in riverine London. The humidity never fell below ninety per cent. When the mud dried, there was dust. When the scorching winds blew, which they did with unusual ferocity and for days on end, there were novel urban sandstorms, brownish yellow, thick enough to obscure from view Nelson on his column. Some of the sand, it turned out on analysis, came from the Sahara. A live black scorpion four inches long was found in a consignment of fresh dates on sale in Borough Market. It was impossible to persuade feverish social media that these venomous creatures were not wind-born, and had not breezed in from north Africa on a south-westerly. A deluge of scorpions had biblical echoes. Real or not, they added to the profound unease among the substantial minority of the electorate convinced that a catastrophe was at hand, driven by a government of reckless ideologues. Another substantial minority, slightly larger, believed that a great adventure was at hand. It could hardly wait for it to start. Both factions were represented in parliament, though not in government. The weather was right. Turmoil and reduced visibility was everywhere.
Unhelpfully, the French released the dead fishermen in their coffins one by one, after post mortems, over a week. They were flown to Stansted, not the sort of airport Jim wished to be seen in. The dead, at government insistence, were not released immediately to the families. Instead, they were held in cold storage outside Cambridge and when the last man had been brought in from France, all six were flown to Royal Wootton Bassett by an RAF transport plane. Jim took charge of the planning. He decided that there would be no brass band. Instead, he would stand alone on the airstrip, silently facing a camera crew and the massive four-engine propeller plane as it taxied to a stop. A brave lonely figure confronting the giant machine. Jim's antennae were finely attuned to public sentiment. As it happened, it was the first day of the heavy rains. The coffins, draped in Union Jacks, were brought out in single file, by members of the Grenadier Guards, marching in funereal slow step, and placed at the prime minister's feet. The rain played well. He correctly refused an umbrella as he stood to attention in the downpour. Were those tears on his face? It was reasonable to think so. The nation came together in a passing frenzy of grief.
Download


Copyright Disclaimer:
This site does not store any files on its server. We only index and link to content provided by other sites. Please contact the content providers to delete copyright contents if any and email us, we'll remove relevant links or contents immediately.