Somewhere Inside: One Sister's Captivity in North Korea and the Other's Fight to Bring Her Home by Laura Ling & Lisa Ling
Author:Laura Ling & Lisa Ling [Ling, Laura & Ling, Lisa] , Date: August 6, 2020 ,Views: 345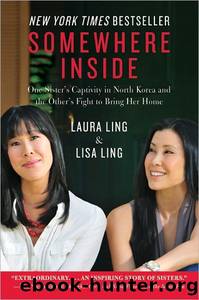 Author:Laura Ling & Lisa Ling [Ling, Laura & Ling, Lisa]
Language: eng
Format: epub
Tags: Biography & Autobiography, Personal Memoirs, Political
ISBN: 9780062000682
Google: TdVci8yy9rwC
Barnesnoble:
Goodreads: 7818223
Publisher: HarperCollins
Published: 2010-05-18T00:00:00+00:00



LAURA
EVEN AFTER I HAD made the confession the North Koreans wanted, the investigation continued with more questions about our documentary project. Now Mr. Yee wanted to know about the Internet sex worker we'd interviewed at our hotel. I told him what I asked her and how she responded. I also gave him a general description of her appearance. "She's a little shorter than me, with long black hair. She wore black boots and a white jacket and had on a lot of makeup. I would guess she's probably in her midtwenties." I could have been talking about half the girls in China. But whenever he asked me for the names of sources and interview subjects, I always gave the same answer: "I don't recall her name. I just referred to everyone as 'Sir' or 'Miss.'"
My unwillingness to cooperate about names of sources angered him, but for me it was not an option to put these people in any more jeopardy than they were already in. The only name I volunteered was that of Andrei Lankov, whom we had interviewed in Seoul. Mr. Lankov is a well-known authority on North Korea who has written lengthy papers about it and speaks publicly about his research. I knew they would not be happy that we'd spoken to him, because of some of his critical assessments, but I wanted to give them at least one name, and I knew Lankov would not be in any danger. I wanted to seem as if I was cooperating to the best of my ability.
One day Mr. Yee brought in the pocket-sized tan notebook I'd been carrying during the trip.
"Is this yours?" he asked.
"Yes," I replied.
"Did you use it to write down any notes during this trip?"
I knew I needed to admit to destroying and tampering with evidence when Euna and I were at one of the detention facilities along the border. I told Mr. Yee what we'd done, including swallowing the sheets from my notebook. He flipped through the pages and saw some notes I had jotted down from previous assignments. One page had the name Rory Reid and a list of questions that I had asked Reid, the chairman of the Clark County Commission in Nevada, during an interview I conducted about the declining economy of Las Vegas.
"If you've written his name down, you must have written the names of the people you interviewed in China," he charged.
"Sir, I knew the report about defectors was sensitive in both China and North Korea. That's why I didn't document anyone's names. I didn't want to endanger anyone."
I was telling the truth. The only names I had in my notebook were Pastor Chun's and Andrei Lankov's. The notes I'd destroyed were for the interviews with Chun and Lankov, and they had to do with the regime's stability and whether it would survive for very long. I knew such questions would infuriate the authorities. So while it didn't look good that we had gotten rid of the pages, I felt glad we had.
Download


Copyright Disclaimer:
This site does not store any files on its server. We only index and link to content provided by other sites. Please contact the content providers to delete copyright contents if any and email us, we'll remove relevant links or contents immediately.