Rosings by Karen Aminadra
Author:Karen Aminadra [Aminadra, Karen] , Date: June 12, 2019 ,Views: 123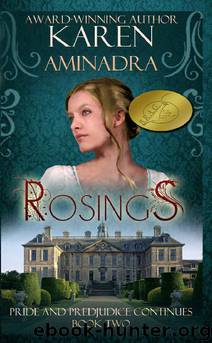 Author:Karen Aminadra [Aminadra, Karen]
Language: eng
Format: epub
ISBN: 9781310709265
Publisher: Flourish Publishing
Published: 2013-05-01T04:00:00+00:00



TEN
_______________________________
The morning dawned clear and promised to be another beautiful day. Anne, however, wore a thundercloud over her head and did not wish to rise at all. She snuggled down under her covers and wished to return to the peace of sleep. Her wish was denied, though, when the maid arrived to open the curtains and signal the beginning of Anne's day. It was a day that filled her with utter dread.
Anne hoped more than anything that a marriage proposal would not be forthcoming that morning. She even prayed that Monty would lose his voice and be unable to ask her. That only served to make her feel worse and she quickly prayed for forgiveness to assuage her feelings of guilt.
Anne was surprised to see Monty in the breakfast room when she descended to eat. He was usually a late riser and she counted upon that fact to avoid him completely before church. Her face, she was sure, gave away her feelings of dismay at seeing him there and of being in the room with him alone. If he noticed, he did not show it.
He swallowed down a mouthful of food and half rose upon seeing her standing aghast in the doorway. "Good morning, Miss Anne. Frightfully good spread this morning; won't you join me?"
Yes, Monty, I slept well, thank you, Anne thought spitefully as she seated herself in her usual place, grateful that she was a few places down the table from him. To her own shame, she could not bear to speak to him, let alone look at the man. For some reason she could not name, her fear of being proposed to had turned to anger. She wanted to lash out verbally at him across the table, but knew taking her frustrations out on him was not proper at all.
"Are you awaiting anyone in particular, Miss Anne?"
Anne looked up at Monty in surprise when he spoke her name. She realised that she was repeatedly looking with hope at the door, knowing that soon the others would join them.
"Oh, no one in particular. I merely thought I heard someone outside the door. That is all."
"I shall look for you, if you wish." Monty rose and Anne felt guilty again. Her falsehood forced the man to be courteous and she was ashamed of herself. She watched him cross the room, open the door, and look outside into the hallway.
"There appears to be nobody there," he declared as he rejoined her at the table. "I am confident that the person you are so impatiently awaiting will be along soon enough," he continued with a bitter note in his voice.
Anne knew if she did not find a suitable subject of conversation, they would inevitably descend into an unpleasant argument. That, she certainly did not want.
She cleared her throat and said the first thing that came into her mind. "I should think that it will seem strange not having Mr Collins in the pulpit this morning. He was the parson here in Hunsford for many a year.
Download


Copyright Disclaimer:
This site does not store any files on its server. We only index and link to content provided by other sites. Please contact the content providers to delete copyright contents if any and email us, we'll remove relevant links or contents immediately.