Recipes for the Romantic Soul by Caridad Pineiro
Author:Caridad Pineiro [Pineiro, Caridad] , Date: May 5, 2021 ,Views: 54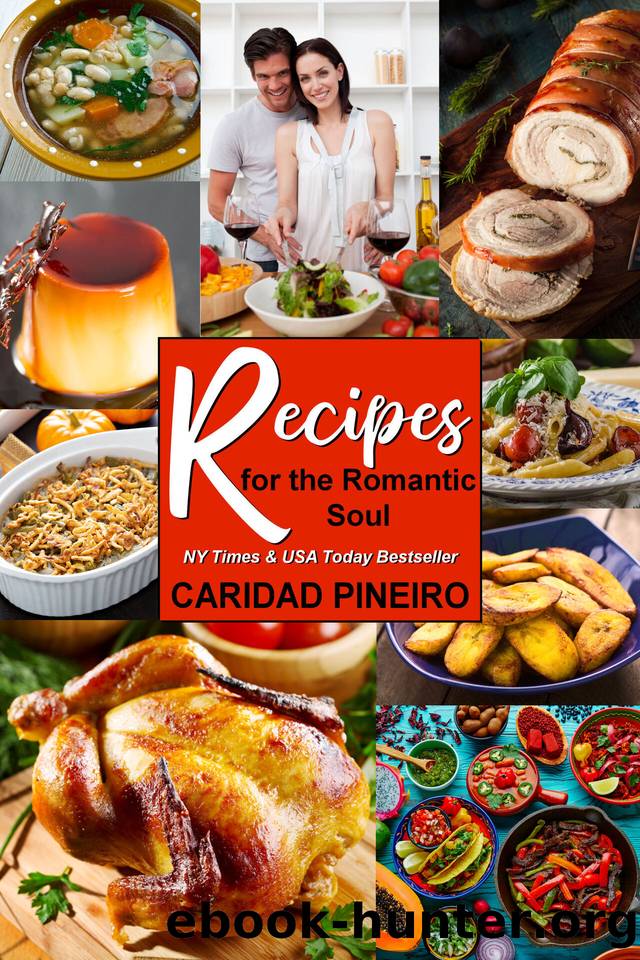 Author:Caridad Pineiro [Pineiro, Caridad]
Language: eng
Format: azw3, epub
Publisher: Caridad Pineiro
Published: 2021-05-03T16:00:00+00:00



FOR MORE INFORMATION on COLD CASE REOPENED, please visit https://www.caridad.com/suspense/cold-case-reopened/ .
Cuban Black Beans from TAMING THE BACHELOR
I could totally picture Daisy making some Cuban-style black beans for Brad from TAMING THE BACHELOR .
This is recipe for my family's Cuban Black Beans which you can eat as a soup or really thicken to put over your rice. Also, it's the same basic recipe if you want to make red beans or lentils, although I usually add a ham bone or some other ham/pork product to those for additional substance.
Ingredients:
1 lb. dried black beans
1 large onion, cut into eighths
1 red pepper, cut into eighths
3 to 6 cloves garlic, minced
2 bay leaves
1 tsp cumin powder
1/8 cup olive oil
1 cup red wine (not salty cooking wine — real red wine)
salt and pepper to taste
5 cup water
To finish the beans:
1 medium onion, chopped
1/2 a red pepper, chopped
2 to 3 cloves, minced
1/8 cup olive oil
1/2 cup sherry
Directions:
There are those you believe in soaking the beans overnight. My family never did this, but it will speed up the cooking time. The one thing to remember is — DO NOT THROW OUT THE SOAKING WATER! It has a lot of the flavor from the beans, and you will lose all that flavor if you toss it. Also, don't soak the beans too long or they will begin to ferment.
If you don't soak, it will mean simmering the beans for a longer amount of time, but on a cold day, the smell and heat are a welcome thing.
So, before you soak (or not), rinse the beans to get rid of any field dirt and also, pick through them for any bad beans or small stones.
Once the beans are clean, place them in a stockpot, dutch oven, or heavy cast iron kettle. Add the water, wine, bay leaves, onion, pepper, and cumin, salt and pepper and bring to a boil. Make sure to stir it a few times to make sure the beans are not sticking to the bottom.
Once the water is boiling, turn it down so that it is a slow simmer. Simmer with the cover on for at least 3 to 4 hours. The water should start to thicken from the beans. You can test to see if the beans are done by tasting one. It should not be hard.
To finish the beans, fry up the onion, red pepper and garlic and add this mix to the cooked beans along with the sherry. Adjust the taste with salt to your liking.
You can serve the beans over white rice. Cubans call this moros y cristianos . You can also eat this alone as a soup. If you do have it as a soup, garnish it with raw onions, cheddar cheese, avocados, or chopped ham.
Download


Copyright Disclaimer:
This site does not store any files on its server. We only index and link to content provided by other sites. Please contact the content providers to delete copyright contents if any and email us, we'll remove relevant links or contents immediately.