People Who Eat Darkness: The True Story of a Young Woman Who Vanished from the Streets of Tokyo--and the Evil That Swallowed Her Up by Richard Lloyd Parry
Author:Richard Lloyd Parry [Parry, Richard Lloyd] , Date: August 4, 2020 ,Views: 378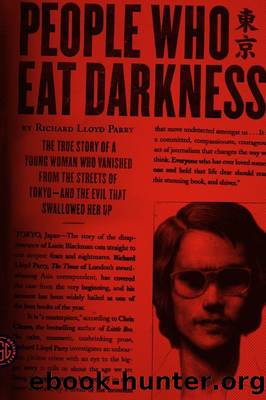 Author:Richard Lloyd Parry [Parry, Richard Lloyd]
Language: eng
Format: azw3
Publisher: Farrar, Straus and Giroux
Published: 2012-05-21T16:00:00+00:00



15. GEORGE O'HARA
Instead of Azabu Police Station, where they would have interrogated the suspect in a more routine case, Superintendent Udo's detectives took Joji Obara to the fortresslike headquarters of the Tokyo Metropolitan Police in the Kasumigaseki district, the bureaucratic nerve center of Japan. The ministries of Finance, Foreign Affairs, and Justice were strolling distance away; in the space of this square mile was the greatest concentration of state power in the country. Within a few hours of his arrest, hundreds of officers had descended with search warrants on twenty of Obara's properties all over the country. They included the apartment among the palm trees in Zushi Marina, the room in Blue Sea Aburatsubo where the dead dog had been laid, the building near Roppongi where he was arrested, and the big house in Den-en Chofu. Helicopters from the Japanese television companies hovered close by, peeping across the cordons. They captured images of search dogs snorting over the grounds and policemen in overalls shoveling mounds of earth. For days, police vans came and went carrying out articles of evidence. There were tools, clothes, notebooks, sheaves of documents, rolls of film, videotapes, audio cassettes, photographic prints, bottles of fluid, and sachets of powder. They were gathered in a storeroom in Kasumigaseki, where Udo himself supervised their sifting. "There were fifteen thousand items there," he told me. "It was the biggest room we had available to us. There was so much dust, we were coughing and scratching, and there were dust mites biting our legs. But for us they were piles of treasure."
Obara was held in one of the cells inside the same building. In theory, criminal suspects in Japan are supposed to be kept in detention centers from which they travel in the morning for questioning and where they are dropped off after working hours. In fact, they are almost always held at a police station, where the organization investigating them also controls every aspect: visitors, the time and duration of their interrogations, their food, even the lighting in their cells.
Many of the rights regarded as fundamental in British and American justice are unavailable to the suspect in Japan—or, if available in theory, waived or ignored in practice. He has the right to see a lawyer, but the frequency and duration of the visits are decided by the police. He has the right to remain silent under questioning, but he is obliged to sit through the questions, which can go on for hour after hour through relays of fresh officers until the suspect is numb with boredom and fatigue. There is no obligation for detectives to record interrogations. Instead of a verbatim account, they produce at the end of the proceedings a summary (known within the justice system as the "prosecutor's essay") to which the exhausted suspect is simply asked to put his name.
An arrest warrant allows the police to hold a suspect for three days, but with the permission of a judge this can be extended, twice, by ten days at a time.
Download


Copyright Disclaimer:
This site does not store any files on its server. We only index and link to content provided by other sites. Please contact the content providers to delete copyright contents if any and email us, we'll remove relevant links or contents immediately.