Need Me, Cowboy (Copper Ridge Book 2653) by Maisey Yates
Author:Maisey Yates [Yates, Maisey] , Date: June 12, 2019 ,Views: 149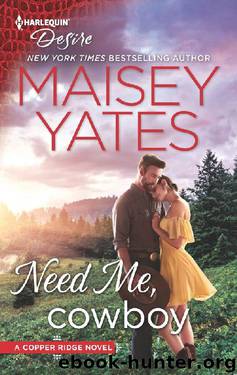 Author:Maisey Yates [Yates, Maisey]
Language: eng
Format: epub
Published: 2019-01-10T21:05:18+00:00



Ten
Faith had only left his house once in the past two days. On Friday she went to work. But on Friday evening she returned, and stayed the night again. Now it was deep into Saturday, a gloomy, rainy day, and she was loitering around his kitchen wearing nothing but a T-shirt and a smile.
He didn't mind.
"I've got some horses coming later today," he commented, looking over at her lithe, pale form.
She hauled herself up onto the counter, the T-shirt riding up, nearly exposing that heaven between her thighs. She crossed those long, lovely legs at the ankles, her expression innocent, her hair disheveled from their recent activities.
The woman managed to look angelic and completely wicked all at once, and it did things to him he couldn't quite explain.
She wasn't for him. He had to remind himself. Because the things he liked about her... They didn't say anything good about him.
He had practically been born jaded. His vision of the world had been blackened along with his mother's eye the first time he had seen his father take his fists to her when he had been... He must've been two or three. His earliest memory.
Not a Christmas tree or his mother's smile. But her bruises. Fists connecting against flesh and bone.
That was his world. The way he had known and understood it from the very start.
He had never been able to see the world with the kind of unspoiled wonder Faith seemed to.
He had introduced her to dirty, carnal things, and had watched her face transform with awe every time he'd made her come. Every time he'd shown her something new, something illicit. She touched his body, his tattoos, his scars, like they were gifts for her to discover and explore.
There was something intoxicating in that.
This woman who saw him as new.
He had never had that experience with a woman before.
His high-school girlfriend had been as jaded and damaged as he was, and they might have experienced sex for the first time together, but there was no real wonder in it. Just oblivion. Just escape. The same way they had used drugs and alcohol to forget what was happening in their homes.
Sex with Faith wasn't a foggy escape. It was sharp and crisp like crystal, and just as able to cut him open. He had never felt so present, so in his own body, as he was when he was inside her.
He didn't know what the hell to make of it, but he didn't have the strength to turn away from it, either.
"Horses?"
"There's a small stable, and some arenas and pastures on this property. Of course, when I move to the other one..."
"You didn't tell me you needed a riding facility."
"I figured that's pretty standard, isn't it?"
"It doesn't have to be. It can be whatever you want it to be."
"Well, maybe I'll have you sketch that out for me, too."
"Can I meet the horses?" She looked bright and happy at the idea.
"Sure," he said. "You like to ride?"
"I never did as much of it as my brothers.
Download


Copyright Disclaimer:
This site does not store any files on its server. We only index and link to content provided by other sites. Please contact the content providers to delete copyright contents if any and email us, we'll remove relevant links or contents immediately.