Mercy Road by Ann Howard Creel
Author:Ann Howard Creel [Creel, Ann Howard] , Date: February 17, 2020 ,Views: 239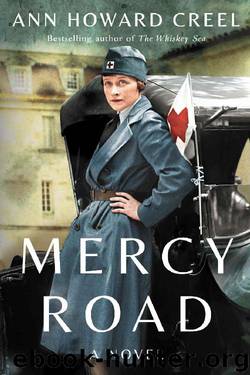 Author:Ann Howard Creel [Creel, Ann Howard]
Language: eng
Format: epub
Published: 2019-11-18T16:00:00+00:00



Chapter Fifteen
When I looked back on France later in my life, I would remember it as a series of contrasts. We stepped from quiet scenes of beauty and tranquility into the urgency and thunder of war, like stepping from one foot to the other. One call, one sight in the distance, one message received, and everything changed.
I would remember lounging amid flowers in a Meaux garden, eating cake and listening to the sounds of a softly tinkling fountain; I might see a burst of artillery fire in the distance, but all else around me made no sound, no movement. At the start of the day, we could gaze at a field coming into daylight and teeming with life. I might look up into a cloudless sky and spot a single star or an airplane looping lazily overhead.
Then orders would come to leave, and we would immediately enter a world of horrors. We drove past stiff bodies and partially decayed bodies, crumbled villages, weary poilus on the road, and charred and cratered fields, while nearby, men in barbed-wire-protected trenches waged war with machine guns. A world of ruin—gray skies, gray roads, gray fields, empty gray villages—a place decaying before its time. What a mess man had made of it.
Even looking back on it years later, the two sets of memories seemed completely unrelated to each other.
Every day as the sun set, we felt lucky to have made it through another day. Overhead the enemy Gothas searched us out. They had no qualms about striking ambulances and hospitals. Several French drivers had perished since we'd arrived at the front. On top of it all, I never saw those soldiers who'd gossiped about Brohammer again, and I never heard anything else from Jimmy, either.
And still I found comfort in the twilight, as we were safe for now, and it made me think of Papa. Often he had smoked a cigar on the porch; other times he drank bourbon. But more than anything, he loved to simply sit and watch the sunset in something of a hypnotic state. He seemed even more awestruck as the fireflies came out. I closed my eyes and saw him there.
But his features had begun to blur in my mind, and, horrified, I willed them to clarify. And yet the harder I tried to conjure them up, the faster they faded. Each day the sights and sounds of the world in chaos drowned my memories, burying them farther and farther beneath the surface.
One day Cass and I teamed up with a French driver named Emile, a small, dark-eyed man who, despite his obvious war-weariness and grimy uniform, had me imagining him wearing a beret and making brushstrokes on a canvas. Emile turned out to know the land by heart, and he was an excellent driver with good instincts.
Near the front lines, we detoured toward smoke we could see from a distance. Most of the towns close to the front had been abandoned, but some villagers remained in their homes no matter what.
Download


Copyright Disclaimer:
This site does not store any files on its server. We only index and link to content provided by other sites. Please contact the content providers to delete copyright contents if any and email us, we'll remove relevant links or contents immediately.