Mellon by David Cannadine
Author:David Cannadine [Cannadine, David] , Date: June 11, 2021 ,Views: 37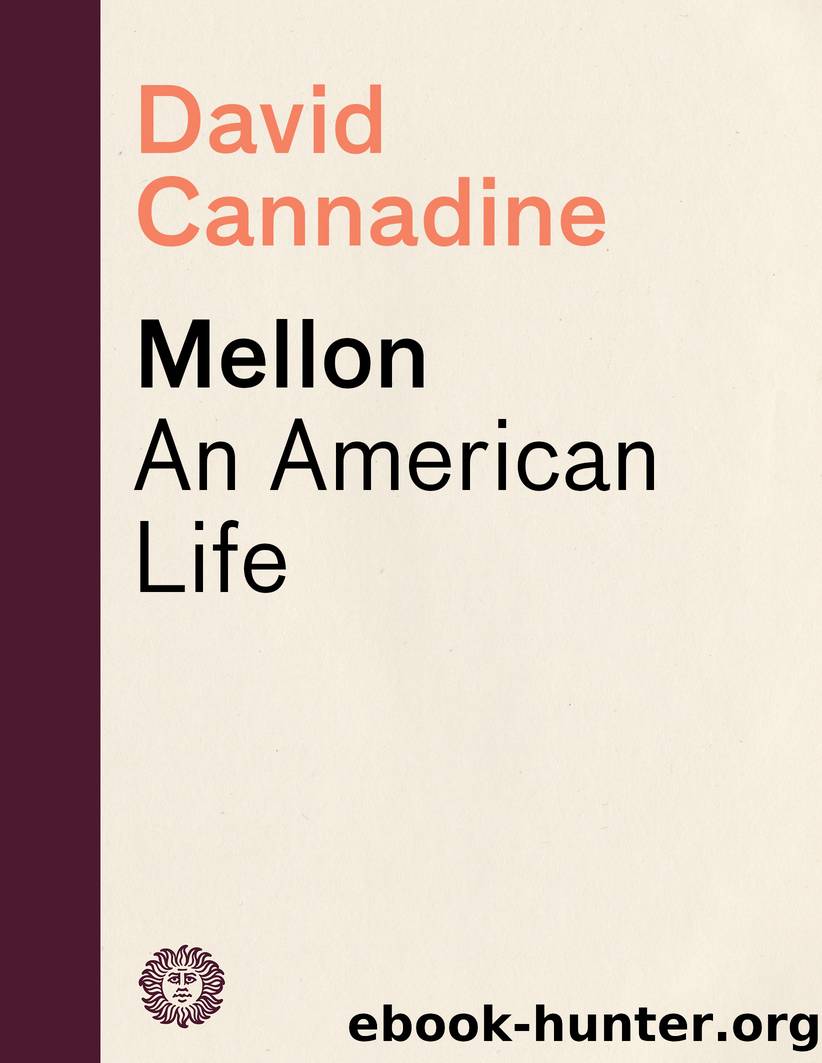 Author:David Cannadine [Cannadine, David]
Language: eng
Format: epub
Publisher: Knopf Doubleday Publishing Group
Published: 2021-06-02T00:00:00+00:00



III. GRAND DESIGNS AND GRANDER PAINTINGS
As his letter to Ailsa at the very end of 1926 had rightly predicted, Andrew Mellon had acquired a new and absorbing interest in the building and beautification of Washington. Although he liked life and work in the capital, he had no illusions about its shortcomings as a world city. Apart from the Capitol, the White House, Union Station, the Library of Congress, and the Treasury itself, Washington boasted few official buildings of real grandeur or architectural merit, and the National Cathedral, of which Mellon had been treasurer since 1923, was far from completion. The original plan of L'Enfant had long been given up, and despite the urgings of the McMillan Commission of 1900–1902 that it be revived, much of the Mall was cluttered by railway lines and temporary buildings put up during the First World War, and Pennsylvania Avenue, which linked the Capitol and the White House, was disfigured by what Mellon would later describe as "gasoline stations, lodging houses and Chinese laundries."61 Moreover, hundreds of thousands of dollars were being wasted by the federal government on rented office space, and efficiency was greatly impaired with many departments spread across town, in more than forty buildings. Both aesthetics and economy dictated the city should be replanned, and that there should be a major construction program to house government departments in buildings of appropriate location, dignity, and design.62
As secretary of the treasury, Mellon was in charge of federal public buildings, through the Office of the Supervising Architect. But Congress held the purse strings, and for nearly two decades, it had refused to sanction spending, which partly explains the scant progress following the McMillan Report. Since he took office, Mellon had been prodding Congress to find money, and in early summer 1926 he had finally obtained the necessary initial appropriations under the Public Buildings Act, which also included an amendment, sponsored by Senator William Cabell Bruce (who had just become Ailsa's father-in-law), calling for the highest quality of construction and design.63 But although Congress had authorized the building program, and confirmed that it should be overseen by the Treasury Department, it resolved to vote appropriations on an annual basis. Nor was this Mellon's only problem, for there were three different statutory bodies which also had jurisdiction in these matters. In 1910, President Taft had set up the Commission of Fine Arts (CFA), with responsibility for approving the design of buildings in Washington; in 1916 Congress created the Public Buildings Commission (PBC), to recommend solutions to the problems of housing the federal government; and in 1924 the National Capital Park and Planning Commission (NCPPC) was established, to prepare plans for the improvement of Washington, with discretion over land use, as well as the construction (or closing) of streets. The chairmen of these three bodies—respectively Charles Moore, Senator Reed Smoot, and Frederic A. Delano—were powerful men, and Mellon would need to win over each of them.64
The broader issues—of the layout of the Mall, and of the great open spaces in the center of the city and by the Potomac—were not Mellon's main concern.
Download


Copyright Disclaimer:
This site does not store any files on its server. We only index and link to content provided by other sites. Please contact the content providers to delete copyright contents if any and email us, we'll remove relevant links or contents immediately.