Gaston County, North Carolina, in the Civil War by Robert C. Carpenter
Author:Robert C. Carpenter , Date: June 11, 2018 ,Views: 79412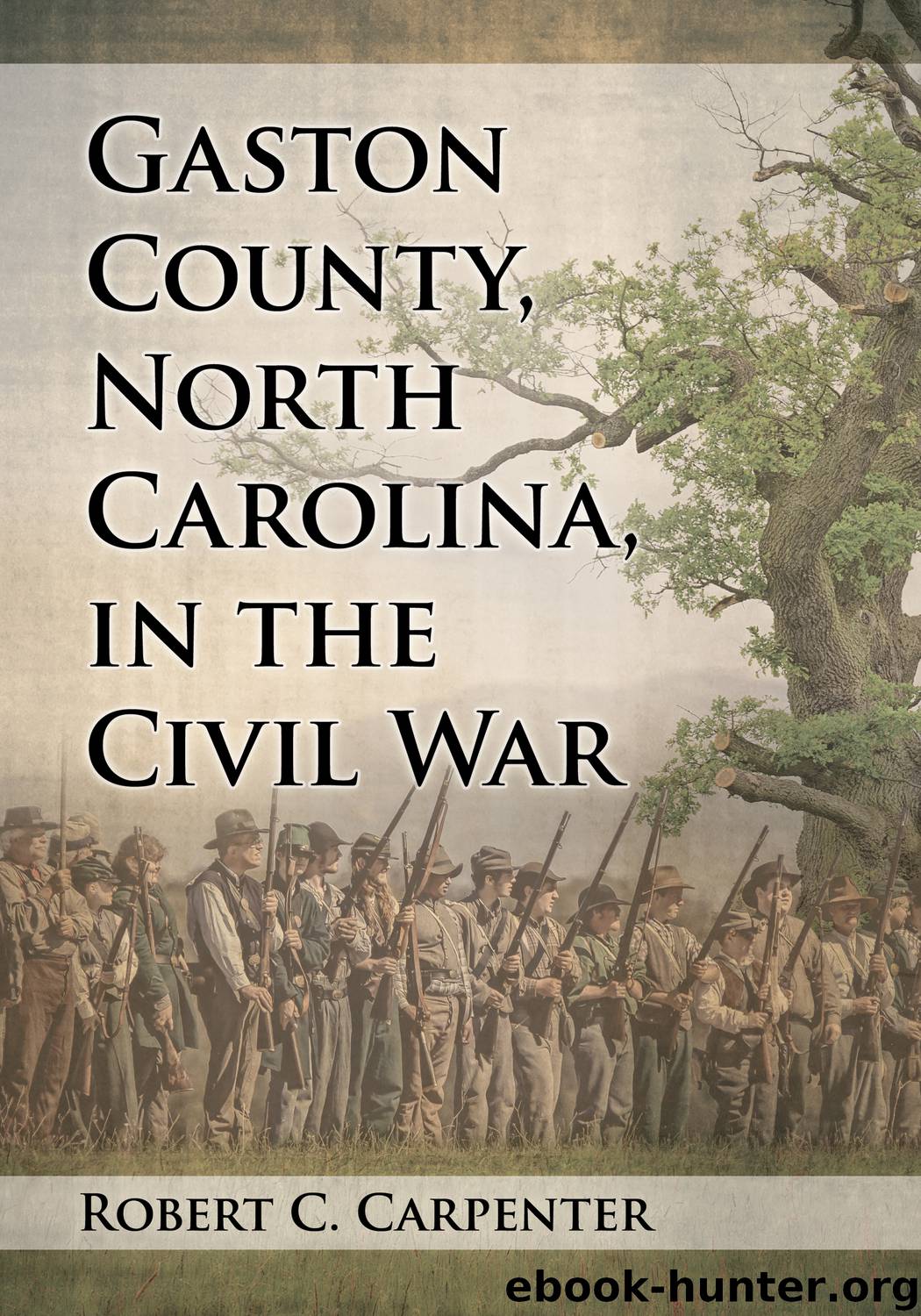 Author:Robert C. Carpenter
Language: eng
Format: epub
Publisher: McFarland
Published: 2016-04-15T04:00:00+00:00



"Vigilantes"
With the advent of secession, southern secessionist leaders sought to create unanimity, as they encouraged North Carolina to join their Deep South neighbors. As secessionist propagandists traveled throughout the Upper South to motivate secession,1 local authorities sought to silence dissenting opinions.
The organization of vigilante justice is steeped in secrecy. Newspapers sporadically reported incidents. For example, after the 1860 election and on Christmas Eve, a "Public Meeting" was "held at Cansler's Store Gaston County to organize a Vigilance Committee." The participants approved resolutions to "examine any person or persons who may be suspected of evil"; to meet once a month; directed members to report to a "Justices Committee"; and allowed for "no collection of slaves be permitted to assemble at any one place during Christmas." Thirty one persons were listed as the committee and an additional 53 were assigned to "patrol." Richard Rankin motioned Alexander Rutledge as chair and John D. M. Rankin as secretary, indicating a northeastern Gaston committee.2 Doubtless vigilante committees were organized in other sections of the county.
Vigilantism became commonplace. On March 26, 1861, the Western Democrat reported "Lynched," a reprint of an article from the Salisbury Banner, in which "a free negro named Sib Rankin" was accused of "making threats using incendiary language, and who knocked down an officer while attempting to arrest him." A "mob … violently [took him] from town authorities," where he was "carried to the woods and hanged by the neck until it was thought he was dead." After he was "cut down… , the fellow recovered" and the "dangerous negro" departed toward Charlotte.3 On June 11 apparently in Concord another "Mob … violently entered the jail, breaking locks and doors … and forcibly took out a negro whom they executed." Oscar Ford had been accused of attempted rape of Mrs. Bryant of Concord but was acquitted "against the general feeling of the community as to his guilt." The mob of 40 to 50 people with "clubs and pistols" took him to the outskirts of town, "hanged him up, fired several shots into his body and left him dead." While the paper felt him guilty, it appealed "for the sake of humanity, civilization, and domestic peace [to] deliver us from the predominance of mob law."4
Locally, mob violence in neighboring Cleveland County set the tone. The North Carolina Whig reported that on May 10, 1861, a "Mob" in Shelby hanged "Timothy Hainey, a man of a white face but a nigger by nature."5 The Western Democrat, quoting the Yorkville Enquirer, indicates that "Haney" had been arrested by the "Vigilance Committee," being placed in jail for "tampering with negroes, harboring runaways and furnishing them passes." He had been released on his own recognizance when a "crowd" seized and "conveyed [him] to the suburbs of the village, and hanged until dead. The names of the persons concerned in the affair are not known, and from all we can learn, no exertion will be made to identify them."6 The newspaper suggests no investigation into the lynching and general complicity.
Download


Copyright Disclaimer:
This site does not store any files on its server. We only index and link to content provided by other sites. Please contact the content providers to delete copyright contents if any and email us, we'll remove relevant links or contents immediately.