American History Stories, Volume III (Yesterday's Classics) by Pratt Mara L
Author:Pratt, Mara L. [Pratt, Mara L.] , Date: June 8, 2017 ,Views: 4629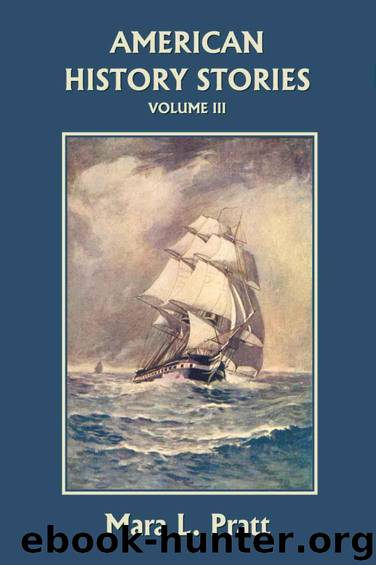 Author:Pratt, Mara L. [Pratt, Mara L.]
Language: eng
Format: epub
Tags: History
ISBN: 9781599152042
Publisher: Yesterday's Classics
Published: 2010-11-12T02:13:41.843000+00:00



A Story of Sackett's Harbor
"IT is useless," said the British officers stationed in Canada, "to attempt to march across the frontier to attack the Americans. But there are the lakes—their waters are open to us as well as to them. We will sail down upon them if we cannot march down upon them."
But you may be sure the Yankees' eyes were open—Yankees are not often caught napping, especially in war time. "The lakes must be fortified," said they. "The British will be sailing down upon us if we leave the great water course free to them."
But it was no easy thing to reach these frontiers in these early days. There were no railroads, not even roads through this section of the country. The same wildness, the same density of forests that prevented the march of the British down upon the American towns, made it a discouraging if not an impossible task to carry to the lakes the necessary guns and ammunition. More than that, the sailors themselves looked with scorn upon the ship life on land, as they called it. "We, who have sailed the Atlantic, do not propose to end our lives in those fish ponds," said they.
But after much hard work on the part of the government, much arguing and explaining, together with promise of larger pay to those seamen, who for their dear country's sake would thus martyr themselves, sailors were gathered together for the lake expeditions. They were a jolly crew, these sailors—a reckless, noisy crew. Sledges dashing up through the Maine, New Hampshire and Vermont woods, filled with these noisy, rollicking fellows, decked out in their red, white and blue, filling the woods with their shouts and songs were common sights in those days.
It was May, 1814, and the new frigate "Superior" lay in her dock at Sackett's Harbor. She was a trim little vessel; her builders were proud of her; her captain loved her; and the crew, ever the crew, eager to see her sail out over the sparkling waters of the lake.
But her stores, her cannon, her guns, her cordage—all these were to be brought from Oswego Falls some fifty miles away. Now it would be easy enough to bring them up the Oswego River, but there were English vessels blockading the harbor—and to run an English blockade was not an easy thing to do, you may be sure.
But the stores must be brought. That was a fact. That it would be no easy matter was another fact equally plain.
But Yankees can always find a way if there is a way to be found; so finally, a captain, one who had grown up and grown old on and about the lakes, and so knew every inch of the way, was found who agreed to do the best he could, though even he hardly dared hope to reach the "Superior."
He set out with the stores and cannon. By dint of sailing the clear waters by night, and lying hidden up the creeks by day,
Download


Copyright Disclaimer:
This site does not store any files on its server. We only index and link to content provided by other sites. Please contact the content providers to delete copyright contents if any and email us, we'll remove relevant links or contents immediately.