Losing Stars (The Celebrity Series Book 3) by J. Sterling
Author:J. Sterling [Sterling, J.] , Date: October 26, 2019 ,Views: 77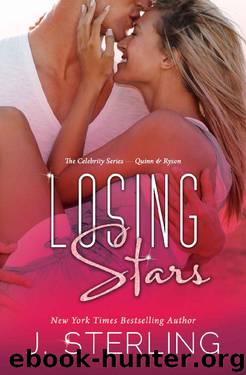 Author:J. Sterling [Sterling, J.]
Language: eng
Format: epub
Published: 2019-10-03T16:00:00+00:00



WAIT FOR ME
THE PAST
Quinn
"And that's a wrap, folks," the director yelled from behind her round glasses.
I turned immediately toward Ryson and fell into his open arms. We stood there for longer than was appropriate, holding on to one another like our lives depended on it. I had a feeling that his did.
"We'll get you that help now," I whispered against his neck, and his arms squeezed me tighter in response.
"Come on, you guys. Party's outside," one of our castmates yelled as she exited the stage.
"You ready for this to be over?" He looked at me, his brown eyes now all too familiar, and chills coursed through my body.
I shook my head in response, and he kissed my forehead. I'd never want things with Ryson to be over—not tonight, not tomorrow, not ever. But first things first. He needed to get better; he needed to get clean.
Reaching for my hand, he interlaced his fingers with mine as he pulled me toward the exit. "I don't know what I would have done without you, Quinn. Thank you for not hating me and for not giving up on me."
I smiled. "I care about you, Ryson," I said, and he grinned from ear to ear before I added, "As a friend."
His smile faltered only slightly. "As a friend for now because I still have a problem," he said matter-of-factly. "But once my problem is kicked, so to speak, it's more than friends for you and me, and you know it."
He poked his finger against my chest, and I narrowed my eyes in mock annoyance.
"We'll see. Help first," I said, trying to sound strong when all I wanted to do was shout my agreement and attack his lips with my face. "Then, we'll talk about the rest."
"Yeah, we will. We'll be talking about it with our mouths," he said with a laugh.
"That's how people usually talk, weirdo." I shook my head at him, pushing him to flirt harder.
"I meant, with our mouths and our tongues. We'll be talking with no words, Quinn, because we won't need them."
God, he was arrogant. And it was so damn hot.
"And the next time I go surfing, you'll stay on the sand and wait for me instead of leaving before I'm even out of the water."
"You saw me?" My voice was filled with surprise at being caught.
"I always see you," he said calmly, as if there was no way I could be anywhere near him without his knowledge.
"But you never said anything."
"Neither did you."
Touché.
Ryson and I mingled with the rest of the cast and crew, neither one of us leaving each other's side. I witnessed more than a few hushed whispers aimed in our direction, and I knew that people thought we were together. The fact that Ryson refused to let go of my hand for most of the evening didn't help put out any of those particular fires.
I didn't mind the attention though. The truth was, knowing that I would no longer be seeing Ryson on set every day was more than a little depressing.
Download


Copyright Disclaimer:
This site does not store any files on its server. We only index and link to content provided by other sites. Please contact the content providers to delete copyright contents if any and email us, we'll remove relevant links or contents immediately.