Le Morte D'Arthur Volume 1 by Thomas Malory
Author:Thomas Malory , Date: April 19, 2020 ,Views: 371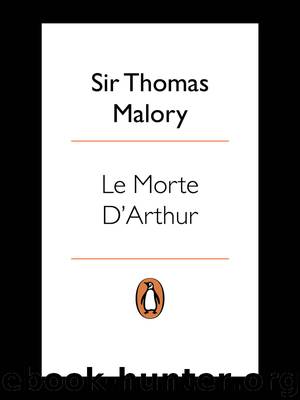 Author:Thomas Malory
Language: eng
Format: epub
ISBN: 9780141913162
Publisher: Penguin Books Ltd
Published: 2013-03-03T16:00:00+00:00



Chapter 2
How Sir Launcelot and Sir Gawain were wroth because Sir Kay mocked Beaumains, and of a damosel which desired a knight to fight for a lady
Thereat was Sir Gawain wroth, and in especial Sir Launcelot bad Sir Kay leave his mocking, 'for I dare lay my head he shall prove a man of great worship.'
'Let be,' said Sir Kay, 'it may not be by no reason, for as he is, so he hath asked.'
'Beware,' said Sir Launcelot, 'so ye gave the good knight Breunor, Sir Dinadan's brother, a name, and ye called him La Cote Male Taile,1 and that turned you to anger afterward.'
'As for that,' said Sir Kay, 'this shall never prove none such. For Sir Breunor desired ever worship, and this desireth bread and drink and broth; upon pain of my life he was fostered up in some abbey, and, howsomever it was, they failed meat and drink, and so hither he is come for his sustenance.'
And so Sir Kay bad get him a place, and sit down to meat; so Beaumains went to the hall door, and set him down among boys and lads, and there he ate sadly. And then Sir Launcelot after meat bad him come to his chamber, and there he should have meat and drink enough. And so did Sir Gawain; but he refused them all; he would do none other but as Sir Kay commanded him, for no proffer.
But as touching Sir Gawain, he had reason to proffer him lodging, meat, and drink, for that proffer came of his blood, for he was nearer kin to him than he wist. But that as Sir Launcelot did was of his great gentleness and courtesy.
So thus he was put into the kitchen, and lay nightly as the boys of the kitchen did. And so he endured all that twelvemonth, and never displeased man nor child, but always he was meek and mild. But ever when that he saw any jousting of knights, that would he see and he might. And ever Sir Launcelot would give him gold to spend, and clothes, and so did Sir Gawain, and where there were any masteries done, thereat would he be, and there might none cast bar nor stone to him by two yards. Then would Sir Kay say, 'How liketh you my boy of the kitchen?'
So it passed on till the feast of Whitsuntide. And at that time the king held it at Caerleon in the most royallest wise that might be, like as he did yearly. But the king would no meat eat upon the Whitsunday, until he heard some adventures.
Then came there a squire to the king and said, 'Sir, ye may go to your meat, for here cometh a damosel with some strange adventures.'
Then was the king glad and sat him down. Right so there came a damosel into the hall and saluted the king, and prayed him of succour.
'For whom?' said the king, 'What is the adventure?'
'Sir,' she said, 'I have a
Download


Copyright Disclaimer:
This site does not store any files on its server. We only index and link to content provided by other sites. Please contact the content providers to delete copyright contents if any and email us, we'll remove relevant links or contents immediately.