Insane by Emery LeeAnn
Author:Emery LeeAnn [LeeAnn, Emery] , Date: August 6, 2020 ,Views: 128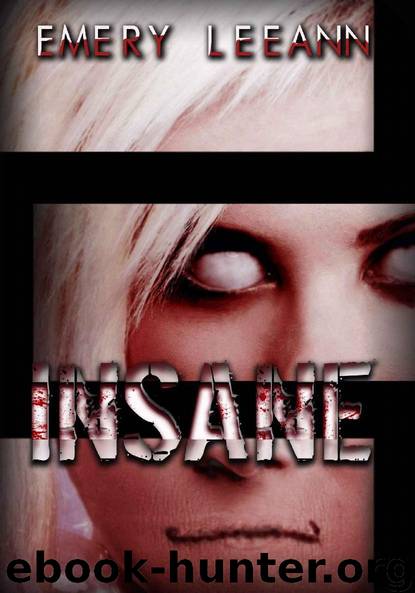 Author:Emery LeeAnn [LeeAnn, Emery]
Language: eng
Format: epub
Published: 2020-03-27T00:00:00+00:00



CHAPTER SEVEN
Katherine
We still didn't trust the doctor. She seemed nice enough, but she was keeping us locked up in here. We went from one prison to another and we hated it but, at least here, we had others we could talk to.
She showed us the eating area, if we decided not to eat in the room, but we were required to eat at least one meal with everyone else. As long as it wasn't dog food, we didn't care where we ate with. She took us to the common room where there were games, a piano, and a television. The problem was, it was so incredibly loud, it made our head hurt. These people were, well for lack of a better word, crazy.
I was starting to get nervous. Knowing I had to keep us under control, I stopped for a moment, took a deep breath in and a deep breath out.
"I know this is a lot to take in. Take your time getting situated here." She said sounding concerned.
We nodded, trying to calm down. She put her arm on my shoulder, then steered me back towards her office. There was an older lady standing inside her office with a bag in her hand.
Dr. Dhavern smiled at her, taking the bag from her. "This is my partner, Katherine, and I've asked her to bring Mary a present. May I speak to Mary, please?"
Reluctantly, my eyes changed color, and Mary came out. "Hello." She squeaked.
The doctor handed her a doll from the bag. Mary's eyes lit up, she hugged the doll, thanked both women, then her entire face went blank.
"Thank you for giving her this. We will put it on our bed for her tonight. Grace is concerned about her being out with you two." I said, smiling kindly. It was a nice gesture, but we sure as hell still didn't trust anyone.
The doctor nodded, while her partner frowned.
"I understand." Dr. Dhavern insisted.
"May we go back to our room?"
"Of course." She called an orderly to show us the way.
Taking the doll, I laid it carefully on the bed. Mary could come out and play as much as she wanted with it in here. Grace would be alright with that.
Looking at the clock, I could see it was almost time to eat. I laid the doll on the bed, covering her up, per Mary's orders.
Making my way to the dining area, I passed a room that was full of stuffed animals. The man on the floor seemed to be crawling around them. He looked dangerous by his size, until he glanced up at me and I saw the same childlike wonder in his eyes like Mary had.
"His name is Toby." A thin woman walked beside me. She had a white gown on and fuzzy slippers.
"My name is Donna. We are neighbors." Her eyes crinkled as she smiled.
"Hi." I replied cautiously, "I'm Katherine."
"Welcome to the loony bin." Donna giggled.
My eyes grew larger. I'm in an asylum? I thought it was a regular hospital. She was looking at me curiously.
Download


Copyright Disclaimer:
This site does not store any files on its server. We only index and link to content provided by other sites. Please contact the content providers to delete copyright contents if any and email us, we'll remove relevant links or contents immediately.