Grave Matters by Mark Harris
Author:Mark Harris , Date: July 28, 2020 ,Views: 214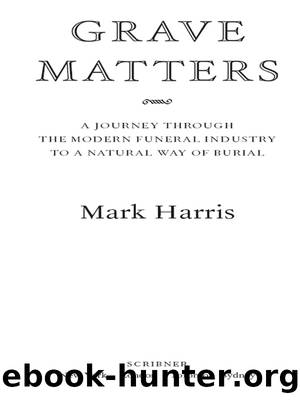 Author:Mark Harris
Language: eng
Format: epub
Publisher: Scribner
Published: 2007-07-14T16:00:00+00:00



Even without an exact street address, it's hard to miss Reef Innovations. One of a handful of contractors licensed to produce reef balls, the company cures its marine modules outdoors, along a roadside edge of property just north of downtown Sarasota. Drive up Center Avenue and you'll spot them a good block away, stacked two, sometimes four to a row, their honeycombed forms rising behind a chain-link fence that rims the company grounds.
Most of the time the rubble yard just inside the fence is where Reef Innovations casts the patented reef balls that are deployed throughout U.S. waters. But on a bright, balmy morning in April recently, as it does some dozen times a year, the company crew joins a band of volunteers from a local diving outfit to help families add the cremated remains of their loved ones to the funereal version of the standard module, the memorial reef.
It's nearing ten o'clock when Carrie Slowe, outfitted in jean shorts, a loose blouse, and running shoes, enters the yard. In her hand, she clutches a five-pound plastic bag that holds the remains of her husband's ashes. Before flying down from New Jersey last night, Carrie buried a handful in her backyard flower garden; a couple of months after John died, she scattered some on the Maui mountaintop where they'd exchanged wedding vows and in the Caribbean waters they'd both dived off Grand Cayman Island.
Carrie is one of twelve clients who are casting today. The event's not scheduled for another hour, but already the yard's full of other casually dressed families, who inspect the fiberglass molds into which concrete will be poured or who mill inside an expansive, airportlike hangar near the entrance. Most have flown in from New Jersey or Maryland, into whose coastal waters these finished reefs will be placed a month from now. There must be some two dozen people in all, a mix of middle-age sons and daughters of the deceased, white-haired siblings, a few friends.
Many, like Carrie, are widows or widowers. There's Mary Simpson, a retired schoolteacher whose late husband used to skin dive off Key West in the days before oxygen tanks. And Dave O'Ferrall. An arthritic condition known as Still's disease had kept his thirty-three-year-old wife out of the surf in her last years, but she loved the sea and asked Dave to add her remains to a memorial reef after seeing a TV show about the idea.
Don and George, both decked out in T-shirts and baseballs caps bearing the Eternal Reefs logo—a memorial reef ball resting on the ocean floor, undulating waves and full moon overhead—stand in the yard. They greet families as they arrive and direct them into the hangar, asking them to place the remains they hold into the bucket inside that bears their loved one's name.
By the time Carrie enters the hangar, most of the twelve buckets lined up on the concrete floor already contain a box, bag, or canister of ashes. Each also holds a numbered tag, a two-foot-long
Download


Copyright Disclaimer:
This site does not store any files on its server. We only index and link to content provided by other sites. Please contact the content providers to delete copyright contents if any and email us, we'll remove relevant links or contents immediately.