Copycat Killer (True Blue K-9 Unit: Brooklyn) by Laura Scott
Author:Laura Scott [Scott, Laura] , Date: July 6, 2020 ,Views: 294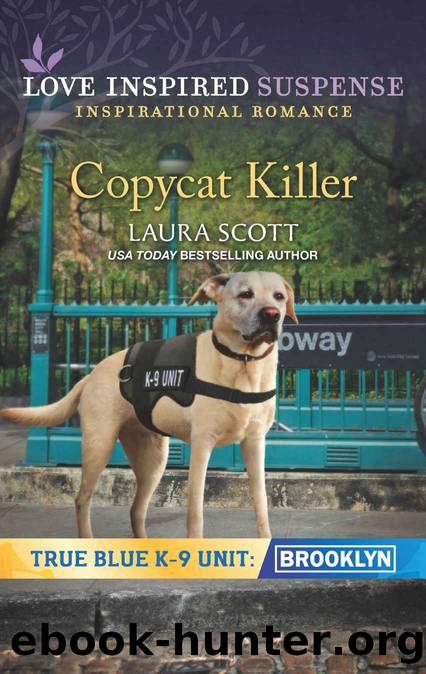 Author:Laura Scott [Scott, Laura]
Language: eng
Format: epub
Publisher: Harlequin
Published: 2020-04-01T05:00:00+00:00



* * *
"A dead body?" Nate repeated, gathering his scattered thoughts. Making the leap from Willow's comforting embrace to yet another crime wasn't easy.
"Yeah, found in the alley behind the Burgerteria." Gavin's voice held a note of urgency. "There's a possibility this latest murder is related to whatever is going on with Willow Emery."
"Yeah." Nate glanced at Willow, still reeling from the near miss at the park. He found it incredible that she didn't blame him for what had happened. That she'd actually thanked him. "Was any evidence found at the scene?"
"Yep, a shell casing."
That pricked Nate's interest. He pulled the evidence bag from his pocket, looking at the one he'd picked up from the area where Murphy had alerted on Craggy Face's scent. "I have one from the park shooting, too."
"Good. We also have a witness." His boss had saved the best news for last. "I'd like you to get over there to interview him. Show him the guy in Willow's photo, see if he can ID him as the shooter."
Leave Willow and Lucy? Every cell in his body wanted to stay. But he couldn't ignore this potential link to finding Craggy Face. "Okay, but I need you to send someone here to watch over Willow and Lucy. It's clear they're still in grave danger. That gunshot was far too close."
"Yeah, okay. I'll send Vivienne and Hank. I have Ray and Abby on scene in the alley. They're waiting for you."
"Ray?" Nate was good friends with the narcotics officer and knew his springer spaniel was a great drug-sniffing dog. "Why send him to a homicide?"
"There's a possible drug connection. You'll find out more when you get there. Vivienne and Hank should be there in less than five minutes."
"Got it." He disconnected from the call and looked at Willow. Her apprehensive gaze made him feel bad. Was she upset about their embrace? Or because she knew he and Murphy had to leave for a while? He updated her on the situation.
"You really think this new murder is connected to me?"
He wasn't sure how to respond. "I don't know, but the location suggests a connection to the Burgerteria."
"Craggy Face." Her face went pale. "It all comes back to the stupid photo I took of Damon and Craggy Face."
There had to be more behind this than a simple photograph, but he didn't want to add to her concern. "Their involvement in something criminal isn't your fault, Willow. You just happened to be in the wrong place at the wrong time, with a camera."
"I don't understand. Is he coming after me because he thinks I have the camera on me?" Willow had given the camera to Nate as evidence in the case. "Or does he just want me out of the way because I can ID him?"
"I wish I knew." The escalating threats against her had to be related to something more than the photograph or camera. But what? "Listen, Vivienne and Hank will be here soon. I want you to think back to your time at the Burgerteria.
Download


Copyright Disclaimer:
This site does not store any files on its server. We only index and link to content provided by other sites. Please contact the content providers to delete copyright contents if any and email us, we'll remove relevant links or contents immediately.