Beyond the Sea: A Modern Gothic Romance by L.H. Cosway
Author:L.H. Cosway [Cosway, L.H.] , Date: August 6, 2020 ,Views: 221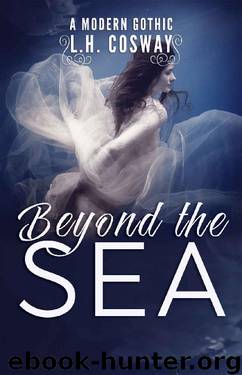 Author:L.H. Cosway [Cosway, L.H.]
Language: eng
Format: epub
Published: 2020-06-08T23:00:00+00:00



15.
Noah had his waiter friend box up our pizza, then he drove us out to the harbour. It was late evening, so there weren't many boats coming and going. Looking out to sea, I felt a small measure of calm, and my appetite returned. We climbed the high wall that surrounded the harbour and sat with our legs dangling over the edge as we ate.
"So, what are you going to do about your fanboy?" Noah asked, nudging me with his shoulder.
I glanced at him. "You mean Kean? Nothing to do. He's … whatever." I said, making an annoyed hand gesture.
"He's … whatever," Noah mimicked, and I gaped at him, a grin tugging at my lips.
"Did you just do an impression of me?"
"What if I did?" he shot back in a voice that was freakily similar to mine.
"Oh, my goodness, stop. You're freaking me out." I swiped at his shoulder.
He chuckled impishly, and I studied him. His personality was an odd dichotomy of man and boy. Sometimes I saw the world-weariness of a person who'd lived a hundred lifetimes in his eyes, and then others he seemed like a mischievous little kid, just now especially.
"I forgot how good you are at accents. I guess that goes for impressions, too."
He smirked. "I'm pretty sure I can be good at a lot of things."
A heat warmed my cheeks, and I glanced away, changing the subject. "What's been going on in the world of Aleksy anyway?"
Noah blew out a breath. "I packed the bartending in when I got the job with Mayor McBride, so Aleksy's been retired for a bit."
"That's too bad," I said, an attempt to flirt. "The Polish accent suits you."
He lifted an eyebrow, like my comment surprised and intrigued him. "Oh yeah?" He slipped into Aleksy's accent effortlessly. "You like a bit of the old Aleksy, do you?"
"Maybe."
"I'll have to talk like this more often," he said, leaning in close.
"Okay, stop now. It's too weird how believable you are." Besides, I thought to myself, his real voice would always be my favourite.
He gave an amused laugh and picked up his slice of pizza, taking the last few bites.
"Thanks for the phone by the way," I said. I'd been meaning to thank him for a while, but whenever I was around him I got distracted and forgot.
"You're welcome. If there's anything else you need, just ask."
Wow, that was nice of him. "I think the phone is more than enough. I know you spent a lot more on it than what I gave you. I'll pay you back."
He waved me off. "No need."
"I insist."
He cast me a speculative glance. "You can help me with tomorrow night then."
"You mean with the get together you're throwing for all your parents' old friends?" He nodded. "What do you need help with?"
"The food, mainly. I can't cook for shit. I'll take care of the booze."
"In that case, we better stop off and get some groceries on the way home."
"That can be arranged."
We finished eating and made our way back down the wall.
Download


Copyright Disclaimer:
This site does not store any files on its server. We only index and link to content provided by other sites. Please contact the content providers to delete copyright contents if any and email us, we'll remove relevant links or contents immediately.