What Is the Meaning of Sex? by Denny Burk
Author:Denny Burk [Denny Burk] , Date: July 7, 2020 ,Views: 104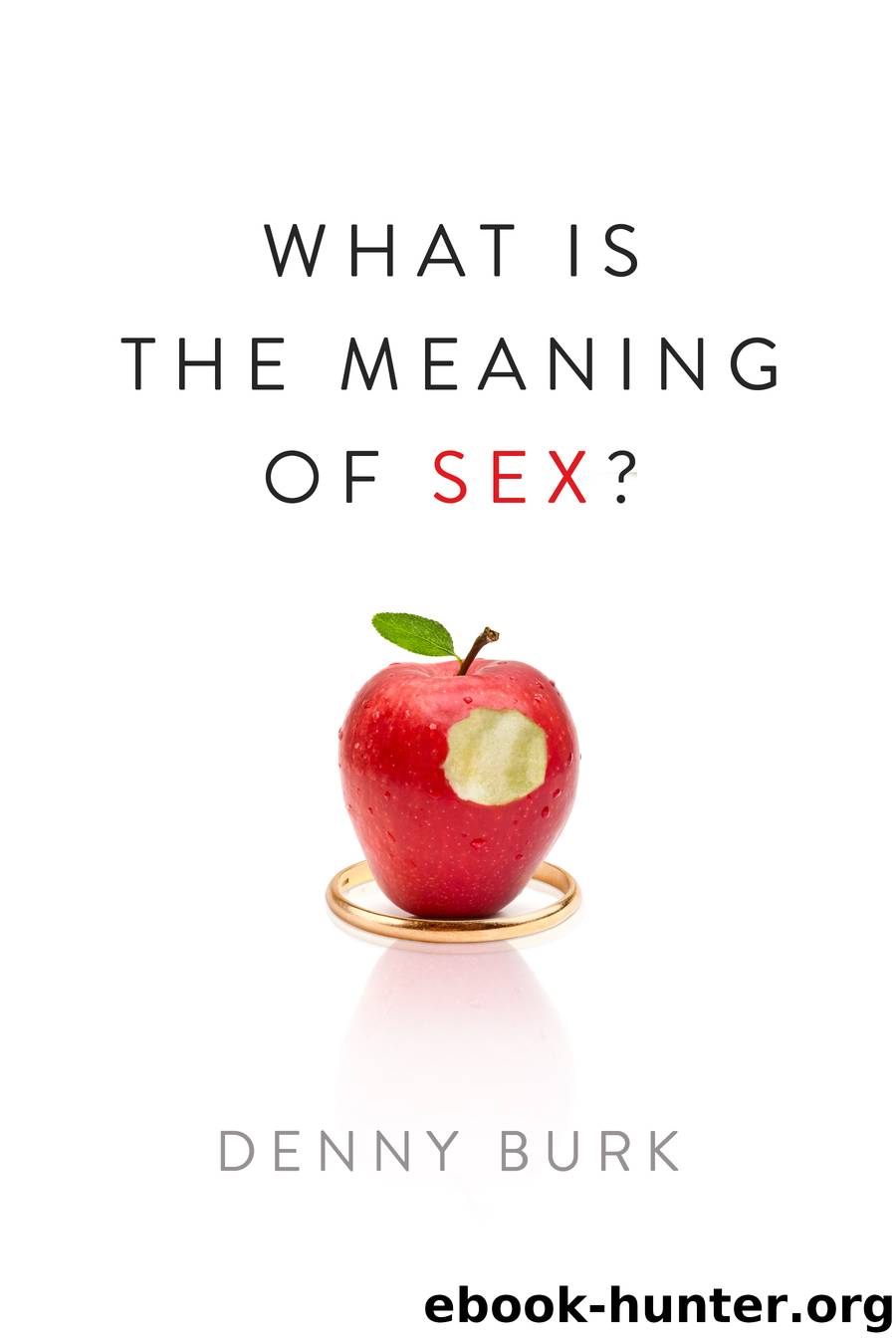 Author:Denny Burk [Denny Burk]
Language: eng
Format: epub
ISBN: 978-1-4335-3612-0
Publisher: Crossway
Published: 2013-07-14T16:00:00+00:00



1 Dennis P. Hollinger, The Meaning of Sex: Christian Ethics and the Moral Life (Grand Rapids, MI: Baker, 2009), 100.
2 BDAG, s.v. "ἅπτω," 2.a: "touch, take hold of, hold."
3 E.g., see the LXX version of Gen. 20:6; Ruth 2:9; and Prov. 6:29. Also see BDAG s.v. "ἅπτω," 4: "to touch intimately, have sexual contact." Richard B. Hays, First Corinthians, Interpretation (Louisville, KY: Westminster, 1997), 113. Contra the stimulating argument from Ciampa and Rosner that the euphemism was not used for sexual relations in general but for a range of sexual activities that would have been frowned upon by most Greco-Roman moralists of Paul's day. See Roy E. Ciampa and Brian S. Rosner, The First Letter to the Corinthians, Pillar New Testament Commentary (Grand Rapids, MI: 2010), 268. See also Hays, First Corinthians, 270–75.
4 Hays, First Corinthians, 114.
5 I take the definite article with πορνείας to be anaphoric. Moreover, the plural form of πορνείας would also seem to imply "individual acts of fornication" (Joseph A. Fitzmyer, First Corinthians, Anchor Yale Bible 32 [New Haven, CT: Yale University Press, 2008], 279), which would probably imply a reference to the illicit acts mentioned at the end of chapter 6. Cf. Matt. 15:19; Mark 7:21.
6 Cf. Matt. 18:32; Rom. 13:7. Gordon Fee notes that the Greek phrase τὴν ὀφειλὴν ἀποδιδότω is used frequently in the papyri for the payment of debts. See Gordon D. Fee, The First Epistle to the Corinthians, New International Commentary on the New Testament (Grand Rapids, MI: Eerdmans, 1987), 279.
7 Hays, First Corinthians, 116: "The marriage partners are neither placed in a hierarchical relation with one over the other or set apart as autonomous units each doing what he or she pleases. Instead, the relationship of marriage is one of mutual submission, each partner having authority over the other." See also Mimi Haddad and Alvera Mickelsen, "Helping the Church Understand Biblical Equality," in Discovering Biblical Equality: Complementarity without Hierarchy, ed. Ronald W. Pierce and Rebecca Merrill Groothuis (Downers Grove, IL: InterVarsity, 2004), 490; Alan G. Padgett, As Christ Submits to the Church: A Biblical Understanding of Leadership and Mutual Submission (Grand Rapids, MI: Baker, 2011), 69–70; Philip B. Payne, Man and Woman, One in Christ: An Exegetical and Theological Study of Paul's Letters, 1st ed. (Grand Rapids, MI: Zondervan, 2009), 105–8.
8 E.g., Eph. 5:22–31; 1 Cor. 11:3; 14:34–35.
9 Fee, First Epistle to the Corinthians, 280. Fee also says that "the emphasis is not on 'possessing' the body of the other" but on the fact that "I do not have authority over my own body, to do with it as I please" (ibid.).
10 The present imperative often indicates action already in progress. Thus, to negate it with μή indicates that the action in progress should stop. See BDF §336 (3): "Something already existing is to continue (in prohibitions: is to stop)." This is not a hard and fast rule for present imperatives. See Stanley E. Porter, Idioms of the Greek New Testament, 2nd ed.
Download


Copyright Disclaimer:
This site does not store any files on its server. We only index and link to content provided by other sites. Please contact the content providers to delete copyright contents if any and email us, we'll remove relevant links or contents immediately.