Understanding Postpartum Psychosis: A Temporary Madness by Teresa M. Twomey
Author:Teresa M. Twomey , Date: July 4, 2020 ,Views: 268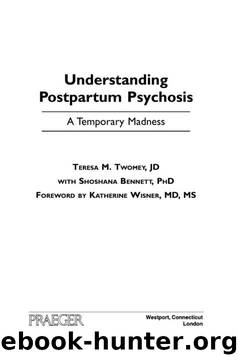 Author:Teresa M. Twomey
Language: eng
Format: epub
Published: 2009-05-22T05:32:00+00:00



Chapter 6
After the Manic "Super Mom" Period:
Laura's Story
It seems overwhelming to write about the events that took place after the birth of my son. However, I am compelled to share this story because it is a story of hope. My biggest desire is to be a source of hope for those women who cannot see the light at the end of the tunnel. I hope that the real-life story that is told in the following pages will be used to help suffering mothers and their confused and scared families. Before I go into the details of my postpartum experience, I would like to share a little bit about my life surrounding these events. I believe strongly that the stress that was occurring in my life led to the postpartum problems that I experienced. I was married to Thomas, a "recovering" drug addict who was far from recovery. We discovered that we were pregnant (our first child) in January of 1999. Throughout my entire pregnancy, I lived the co-dependent lifestyle that usually goes along with being married to an addict. I was heavily stressed with the pressures of living with an addict, and I felt overwhelmed with the thought of bringing a new baby into this world under such unstable conditions. Thomas (my now ex-husband) remained on the rollercoaster ride of addiction throughout our two-and-a-half year marriage.
Our son, Isaac, was born in September, 1999. My labor was amazingly easy and everything (as far as Isaac went) was going smoothly during those first two weeks home from the hospital. I was breastfeeding, and we were able to get Isaac onto a good schedule within the first couple of days. However, I was not sleeping at all. I was extremely talkative and excited, and I did everything for the baby. I was "super mom," as some would call it. We later learned that all of the symptoms that I was experiencing were part of a manic episode. My husband and I were living with my parents, and so I had plenty of people to notice how strange I was acting.
I had become extremely spiritual, singing and praying constantly as I walked through the house and cared for Isaac. I felt more "one" with God than I had ever felt in my life. Everything that I did was very meticulous. It took me at least an hour to get all of Isaac's stuff together for a simple outing to the doctor or to church. I can remember going to get reprints of some snapshots we had taken of Isaac, and I was very obsessive about the whole situation. I still have a multitude of pictures from that time period. My family reports that I talked excessively and would not be still. I was constantly thinking about what I needed to do next. Every time I tried to sleep, I thought of something that I would rather do with the short amount of time that I had before the next feeding. I felt like every second of my time had to be used wisely.
Download


Copyright Disclaimer:
This site does not store any files on its server. We only index and link to content provided by other sites. Please contact the content providers to delete copyright contents if any and email us, we'll remove relevant links or contents immediately.