Descartes' Error by Antonio Damasio
Author:Antonio Damasio [Damasio, Antonio] , Date: January 24, 2018 ,Views: 2452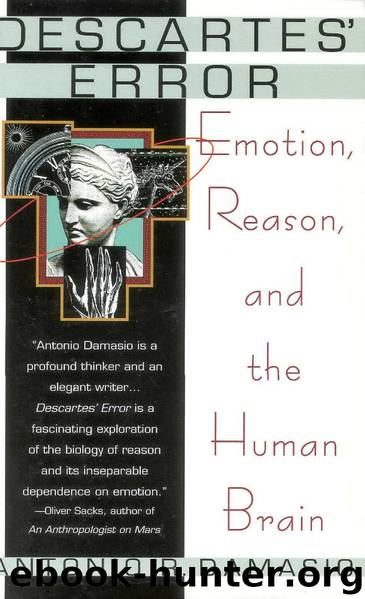 Author:Antonio Damasio [Damasio, Antonio]
Language: eng
Format: epub
Published: 2011-02-16T05:00:00+00:00



E M O T I O N S A N D F E E L I N G S
subjects were well aware that they were not happy or angry at any particular thing. We cannot fool ourselves any more than we can fool others when we only smile politely, and that is what the electrical recording seems to correlate with so nicely. This may also be the very good reason why great actors, opera singers, and others manage to survive the simulation of exalted emotions they regularly put themselves through, without losing control.
I asked Regina Resnik, the most memorable operatic Carmen and Clytemnestra of our time, and the veteran of a thousand nights of musical anger and madness, how difficult it had been to remain separate from the exorbitant emotions of her characters. Not difficult at all, said she, once she learned the secrets of her technique.
Nobody would have guessed, watching and hearing her, that she was just bodily "portraying" emotion rather than "feeling" it. But she does admit that once, playing in Tchaikovsky's The Queen of Spades, alone on the dark stage for the death-by-fright scene of the Old Countess, she did become one with her character and was terrified.
V A R I E T I E S O F F E E L I N G S
As indicated at the beginning of the chapter, there are many varieties of feelings. The first variety is based on emotions, the most universal of which are Happiness, Sadness, Anger, Fear, and Disgust, and correspond to profiles of body state response which are largely preorganized in the James sense. When the body conforms to the profiles of one of those emotions we feel happy, sad, angry, fearful, disgusted. When we have feelings connected with emotions, attention is allocated substantially to body signals, and parts of the body landscape move from the background to the foreground of our attention.
A second variety of feelings is based on emotions that are subtle variations of the five mentioned above: euphoria and ecstasy are variations of happiness; melancholy and wistfulness are variations of sadness; panic and shyness are variations of fear. This second variety of feelings is tuned by experience, when subtler shades of cognitive
Download


Copyright Disclaimer:
This site does not store any files on its server. We only index and link to content provided by other sites. Please contact the content providers to delete copyright contents if any and email us, we'll remove relevant links or contents immediately.