Change Your Questions, Change Your Life by Marilee Adams
Author:Marilee Adams , Date: March 25, 2014 ,Views: 6266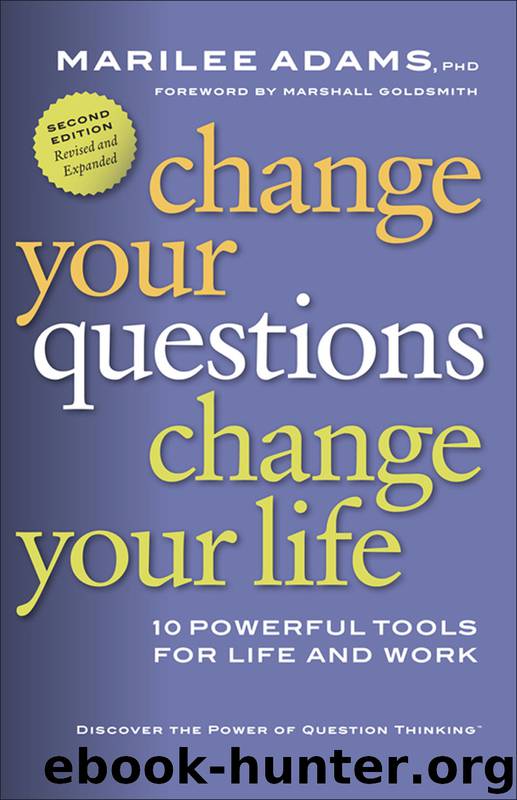 Author:Marilee Adams
Language: eng
Format: epub
Publisher: Berrett-Koehler Publishers, Inc.
Published: 2009-03-24T16:00:00+00:00



Joseph's enthusiasm was contagious. I was eager to learn more, especially the parts about change and sustaining change, and how that could help my results at work. But a glance at the clock told me it was time to end today's meeting.
7 Seeing with New Eyes, Hearing with New Ears
We started our next meeting with a question that had been disturbing me since early in my conversations with Joseph. "Maybe it's just wishful thinking," I began, "but given the problems Judger throws our way …"
Joseph lifted his hand, signaling me to stop, and replied, "None of us can avoid slipping into Judger from time to time. It's only human." Then he smiled enigmatically and added, "But you can free yourself from Judger, simply by accepting that part of yourself. Judger is not the problem, it's how we relate to Judger that makes all the difference. It's such a simple formula: Judger-Switch-Learner. But nobody can use it without beginning with acceptance."
"Huh? That doesn't make sense. How can I be free of something that's part of me?"
"It does sound like a paradox, doesn't it," Joseph said. "But it is possible. Simple acceptance of what is creates a level playing field so that change is really possible. But leveling the field can also be challenging, especially if Judger whispers in your ear a lot. Did Alexa ever tell you about her husband Stan's breakthrough?"
"She mentioned it," I replied. "You helped him make a pile of money, as I understand it."
"He's very proud of that story," Joseph said. "He used the QT tools to earn his way into my Hall of Fame. Stan, as Alexa may have told you, is in the investment business. Accepting his own Judger turned out to be very profitable for him!
"Some years back, Stan was a very judgmental guy. He didn't think of himself that way, but many people around him did. If he had a run-in with someone, or heard gossip about them that wasn't flattering, he'd just write them off. Stan will tell you that he clung to his assumptions and opinions like a bull terrier to a bone. He turned down many business opportunities on the basis of rumor, idle gossip, and guilt by association. He justified it all as a way of minimizing risk — which was only partially true.
"One time he made a huge investment in a promising start-up company. About a year later, the company hired a CEO who'd been employed by a firm that was implicated in a big financial scandal. Although this new guy had been exonerated of any wrongdoing, Stan insisted that where there was smoke there was fire. He was on the verge of pulling his money out but was also in a great deal of conflict about the whole thing. Except for the CEO they'd hired, the company seemed to be doing everything right.
"About this time, Sarah and I had dinner with Stan and Alexa. We were discussing the Learner/Judger material and Alexa encouraged Stan to use Switching questions to evaluate his investment decision.
Download


Copyright Disclaimer:
This site does not store any files on its server. We only index and link to content provided by other sites. Please contact the content providers to delete copyright contents if any and email us, we'll remove relevant links or contents immediately.