Daring Greatly by Brene Brown
Author:Brene Brown [Brown, Brene] , Date: November 15, 2017 ,Views: 5257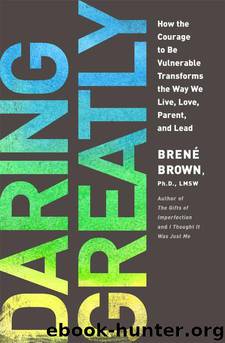 Author:Brene Brown [Brown, Brene]
Language: eng
Format: epub
Tags: Self-Help, Personal Growth, Self-Esteem
ISBN: 9781101594995
Google: cyRDrMMX8WoC
Amazon: B007P7HRS4
Publisher: Penguin
Published: 2012-09-10T16:00:00+00:00



THE CARE AND FEEDING OF OUR SPIRITS
One final question remains, and I hear it a lot. People often ask, "Where is the line between pleasure or comfort and numbing?" In response, author and personal growth teacher Jennifer Louden has named our numbing devices "shadow comforts." When we're anxious, disconnected, vulnerable, alone, and feeling helpless, the booze and food and work and endless hours online feel like comfort, but in reality they're only casting their long shadows over our lives.
In her book The Life Organizer, Louden writes, "Shadow comforts can take any form. It's not what you do; it's why you do it that makes the difference. You can eat a piece of chocolate as a holy wafer of sweetness—a real comfort—or you can cram an entire chocolate bar into your mouth without even tasting it in a frantic attempt to soothe yourself—a shadow comfort. You can chat on message boards for half an hour and be energized by community and ready to go back to work, or you can chat on message boards because you're avoiding talking to your partner about how angry he or she made you last night."
I found that what emerged from the data was exactly what Louden points out: "It's not what you do; it's why you do it that makes the difference." The invitation is to think about the intention behind our choices and, if helpful, to discuss these issues with family, close friends, or a helping professional. There aren't any checklists or norms to help you identify shadow comforts or other destructive numbing behavior. This requires self-examination and reflection. Additionally, I would recommend listening with great care if the people you love say that they are concerned about you engaging in these types of behaviors. But ultimately these are questions that transcend what we know and how we feel—they're about our spirit. Are my choices comforting and nourishing my spirit, or are they temporary reprieves from vulnerability and difficult emotions ultimately diminishing my spirit? Are my choices leading to my Wholeheartedness, or do they leave me feeling empty and searching?
For me, sitting down to a wonderful meal is nourishment and pleasure. Eating while I'm standing, be it in front of the refrigerator or inside the pantry, is always a red flag. Sitting down to watch one of my favorite shows on television is pleasure. Flipping through channels for an hour is numbing.
As we think about nourishing or diminishing our spirit, we have to consider how our numbing behaviors affect the people around us—even strangers. A couple of years ago, I wrote an op-ed about cell phones and disconnection for the Houston Chronicle after witnessing how our crazy-busy, anxiety-fueled lifestyles affect other people. Food for thought:
Last week, while I was trying to enjoy my manicure, I watched in horror as the two women across from me talked on their phones the entire time they were getting their nails done. They employed head nods, eyebrow raises, and finger-pointing to instruct the manicurists on things like nail length and polish choices.
Download


Copyright Disclaimer:
This site does not store any files on its server. We only index and link to content provided by other sites. Please contact the content providers to delete copyright contents if any and email us, we'll remove relevant links or contents immediately.