Unbound by Arlene Stein
Author:Arlene Stein , Date: June 5, 2018 ,Views: 1801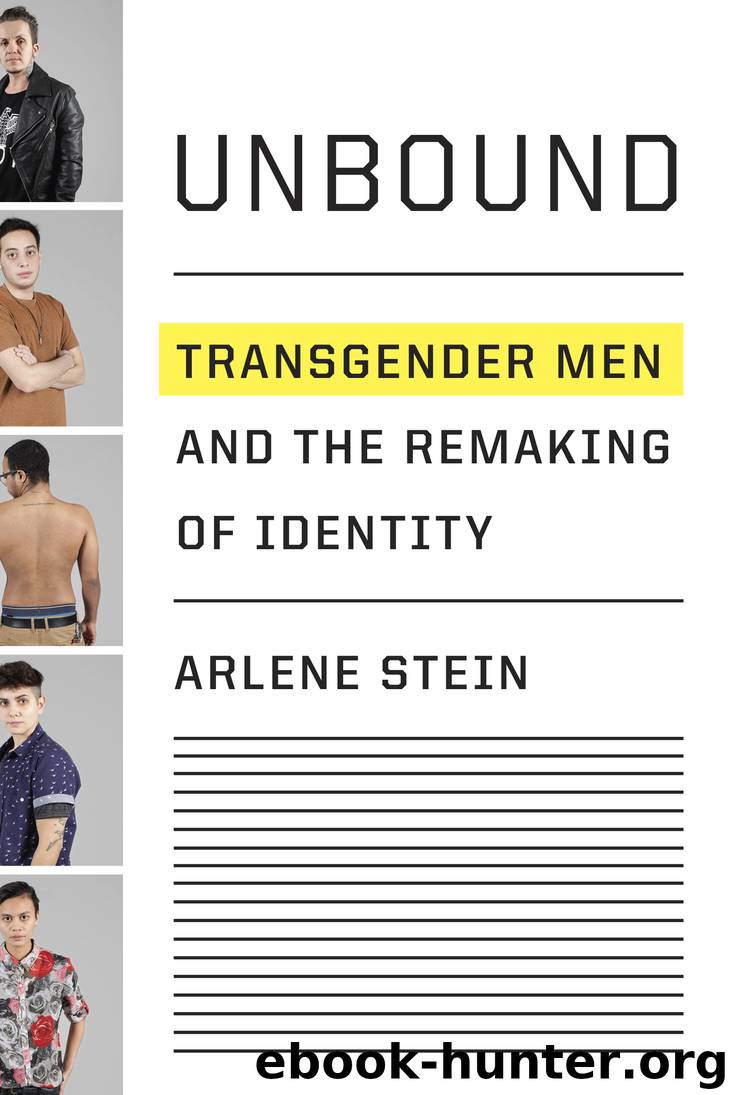 Author:Arlene Stein
Language: eng
Format: epub
Publisher: Knopf Doubleday Publishing Group
Published: 2018-06-05T04:00:00+00:00



* * *
—
Lucas DeMonte is a few inches over five feet tall, and has short dark hair and a scruffy beard. He thinks of his body as being non-binary, and also his gender identity. He identifies as a queer trans man, "somewhere masculine of center," rejecting the belief that the world is neatly divided into male and female. When we meet in the doctor's office, a tattoo of a phoenix rises from the upper part of his chest, poking out of his tank top, and he has a pierced septum. He is wearing dark square-rimmed glasses, shorts, and sandals. An HIV counselor who hopes one day to be a therapist, he apologizes a lot and smiles when he's speaking.
On Facebook, Lucas posts pictures of cuddly cats, appeals for aid for Syrian refugees, and condemns white privilege. He posts inspirational sayings like My brokenness is a better bridge for people than my pretend wholeness ever was, and poems of reassurance: Be easy. Take your time. You are coming. Home. To yourself. He has lots of devoted friends of every hue and orientation, and a close inner circle whom he considers family.
Among his closest friends is Oliver, a former boyfriend, who has an impressive beard and mustache. (Because Oliver has been on testosterone for a longer period, his facial hair is thicker than Lucas's.) Oliver accompanied Lucas to surgery, and both are wearing nearly identical glasses. A Facebook post pictures the two of them, side by side, accompanied by the hashtags: #bestfriend #transmantagram #when­youbot­hmorp­hinto­each­other. Like Parker, Lucas experienced an early sense of estrangement from his female body, childhood tomboyishness, conflicts with his parents about not being girly enough, and what he now considers his "lesbian phase." In a culture that equates maleness with having a penis, both assert their right to be recognized as male without possessing one. But that's where the similarities end. Parker strongly identifies as male. Lucas, who is around the same age, is more ambivalent.
Lucas grew up as Olivia in a large Italian Catholic family in rural South Florida. His father, who was the son of immigrant Italian parents and the first in his family to go to college, is a computer consultant. When Lucas was a small baby, his mother, who worked in the beauty industry, dressed him in frilly clothes, put big bows on his head, and tried her best to shoehorn him into her version of what it meant to be a woman: deferential and appearance conscious. Lucas says that his parents had "very specific expectations for me and my womanhood and also when I get married, have kids, what my life was going to look like. I was going to be this good Catholic woman."
In middle school, whenever Lucas asked his mother to allow him to shop for clothes in the boys' department, she told him, "This is for boys and you're not a boy. You're a girl so you're going to dress like this," and she would not let him choose his own clothes.
Download


Copyright Disclaimer:
This site does not store any files on its server. We only index and link to content provided by other sites. Please contact the content providers to delete copyright contents if any and email us, we'll remove relevant links or contents immediately.