Transforming an Idea Into a Business with Design Thinking by Muhammad Mashhood Alam
Author:Muhammad Mashhood Alam [Muhammad Mashhood Alam] , Date: July 2, 2020 ,Views: 158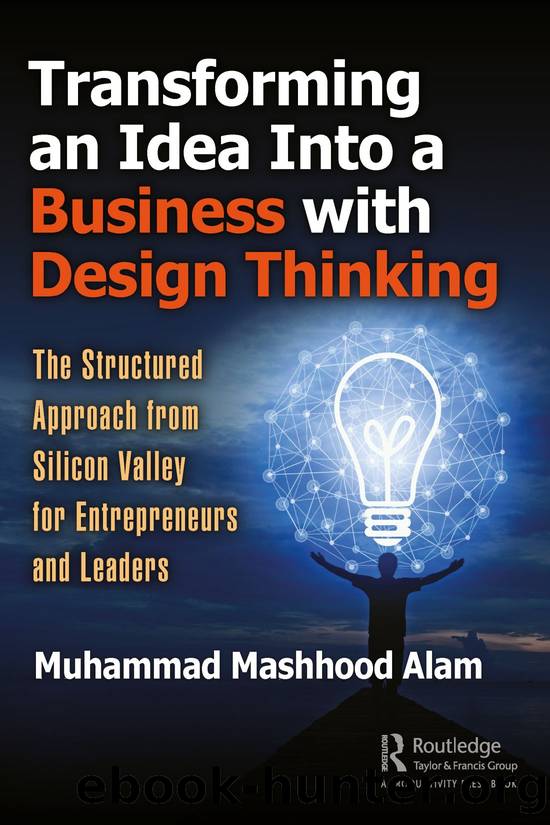 Author:Muhammad Mashhood Alam [Muhammad Mashhood Alam]
Language: eng
Format: epub
Publisher: Productivity Press
Published: 2018-10-29T16:00:00+00:00



4.2.1 Template
Figure 4.3a,b shows how the ideas may look like on the wall as you prioritize using a 2 × 2 matrix.
  Figure 4.3 (a) Idea prioritization.
  Figure 4.3 (b) Idea prioritization.
4.2.2 Example
Figure 4.3c is a snapshot from a real-life session I conducted that showcased idea clusters prioritized on a 2 × 2 matrix.
  Figure 4.3 (c) Idea prioritization example.
4.2.3 Guidance
Session Lead
Name each of the idea clusters to easily identify the ideas.
Write the idea-cluster names and selected top ideas on sticky notes.
Take each idea-name sticky note and bring it to the 2 × 2 matrix. Moving the sticky note in a vertical direction, ask the team to evaluate the value of this idea. The ideas which have the most superior value will be placed at the very top and those ideas which do not have any value will be at the very bottom. All the other ideas will lie somewhere in the middle.
Once the idea has been evaluated on the value axis, staying at the same level, move the idea from left to right on the feasibility scale and ask the team about their view of how feasible the idea is to implement. As you think about feasibility, consider all aspects of feasibility, namely, technical capability, access to expert knowledge, expected duration to implement and any other aspect that influences feasibility.
Based on team consensus, place the idea on the prioritization board.
Repeat the process with all the idea clusters and selected ideas.
Most Valued Ideas
As highlighted in Figure 4.3b, the ideas on the top quarter of the prioritization matrix are the most valued ideas from the perspective of the user based on your understanding. From the user's perspective, realizing these ideas to create a solution would be a tremendous value to the user. However, not all ideas which add value to the users are feasible to implement or viable from a business perspective though.
Most Practical Ideas
The ideas which are both desirable by the user as well as feasible are the ones in the top right corner of the prioritization matrix, as highlighted in Figure 4.3b.
The team should focus on these ideas to move forward.
Note that value to user is based on your understanding, which may or may not be viewed in the same manner by the user. So, it will be important to validate your understanding with the user.
Download


Copyright Disclaimer:
This site does not store any files on its server. We only index and link to content provided by other sites. Please contact the content providers to delete copyright contents if any and email us, we'll remove relevant links or contents immediately.