Rich Dad Poor Dad by Robert T. Kiyosaki
Author:Robert T. Kiyosaki , Date: February 5, 2018 ,Views: 4957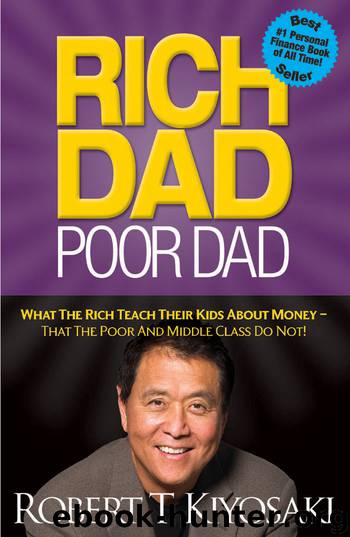 Author:Robert T. Kiyosaki
Language: eng
Format: epub
Publisher: Plata Publishing, LLC.
Published: 2015-11-08T05:00:00+00:00



There are five reasons for using examples:
1.To inspire people to learn more.
2.To let people know it is easy if the foundation is strong.
3.To show that anyone can achieve great wealth.
4.To show that there are millions of ways to achieve your goals.
5.To show that it's not rocket science.
In 1989, I used to jog through a lovely neighborhood in Portland, Oregon. It was a suburb that had little gingerbread houses. They were small and cute. I almost expected to see Little Red Riding Hood skipping down the sidewalk on her way to Granny's.
There were "For Sale" signs everywhere. The timber market was terrible, the stock market had just crashed, and the economy was depressed. On one street, I noticed a for-sale sign that was up longer than most. It looked old. Jogging past it one day, I ran into the owner, who looked troubled.
"What are you asking for your house?" I asked.
The owner turned and smiled weakly. "Make me an offer," he said. "It's been for sale for over a year. Nobody even comes by anymore to look at it."
"I'll look," I said, and I bought the house a half hour later for $20,000 less than his asking price.
It was a cute little two-bedroom home, with gingerbread trim on all the windows. It was light blue with gray accents and had been built in 1930. Inside there was a beautiful rock fireplace, as well as two tiny bedrooms. It was a perfect rental house.
I gave the owner $5,000 down for a $45,000 house that was really worth $65,000, except that no one wanted to buy it. The owner moved out in a week, happy to be free, and my first tenant moved in, a local college professor. After the mortgage, expenses, and management fees were paid, I put a little less than $40 in my pocket at the end of each month. Hardly exciting.
A year later, the depressed Oregon real estate market had begun to pick up. California investors, flush with money from their still booming real estate market, were moving north and buying up Oregon and Washington. I sold that little house for $95,000 to a young couple from California who thought it was a bargain. My capital gains of approximately $40,000 were placed into a 1031 tax-deferred exchange, and I went shopping for a place to put my money. In about a month, I found a 12-unit apartment house right next to the Intel plant in Beaverton, Oregon. The owners lived in Germany, had no idea what the place was worth, and again, just wanted to get out of it. I offered $275,000 for a $450,000 building. They agreed to $300,000. I bought it and held it for two years. Utilizing the same 1031-exchange process, we sold the building for $495,000 and bought a 30-unit apartment building in Phoenix, Arizona. We had moved to Phoenix by then to get out of the rain, and needed to sell anyway. Like the former Oregon market, the real estate market in Phoenix was depressed.
Download


Copyright Disclaimer:
This site does not store any files on its server. We only index and link to content provided by other sites. Please contact the content providers to delete copyright contents if any and email us, we'll remove relevant links or contents immediately.