The Yoga Beginner's Bible by Tai Morello
Author:Tai Morello , Date: December 19, 2017 ,Views: 1598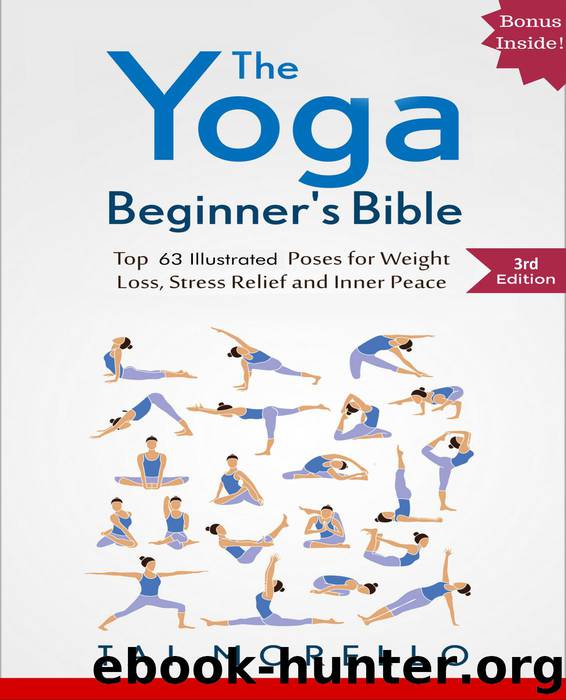 Author:Tai Morello
Language: eng
Format: epub, mobi
Tags: yoga, yoga for beginners, yoga poses, meditation, mindfulness, chakras
Publisher: Tai Morello
Published: 2017-10-03T04:00:00+00:00



Lie flat on your back with your feet together. Your arms should be at your side, palms against the floor. Inhale while lying down.
Then, holding the breath, lift your legs towards the ceiling and bring them towards your head. Pressing down with your palms, letting the arms do the work, lift your buttocks from the floor, which will cause your back to bend. Lift up the palms but keep the elbows on the floor, then bring the palms against the lower part of your back just below the buttocks to support the weight. If that is too difficult, you can hold your palms against the buttocks. Your elbows and shoulders will support the weight of your body.
Keep your legs at a ninety-degree angle to the floor. Close your eyes and relax, breathing normally for as long as you are comfortable. Then, holding your breath again, bring the knees towards your head again, return your palms face-down to the floor, and slowly lower the buttocks to the floor, finally resting your legs and resuming the original position.
In the beginning, you may find it easier to prop your legs against the wall while holding this position.
Benefits: Inverted pose reverses the force of gravity on the body, which has a number of benefits. In particular, it causes blood flow to the head to increase. The increased blood flow in the brain benefits the mind, relieving anxiety, stress, and depression, improving cognitive functions, and increasing memory and intelligence. Inverted pose also relieves flatulence and hemorrhoids.
Sarpasana / Serpent Pose
Download


Copyright Disclaimer:
This site does not store any files on its server. We only index and link to content provided by other sites. Please contact the content providers to delete copyright contents if any and email us, we'll remove relevant links or contents immediately.